ATMs are becoming a costlier convenience
Banks are charging higher fees for out-of-network customers to withdraw cash or do other common banking tasks.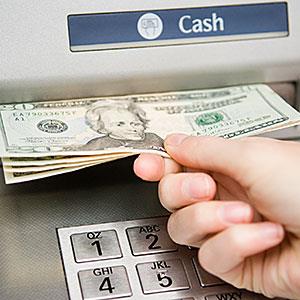 Your intuition was correct about the last time you had to get some money while out of town. It's costing you more to withdraw cash from ATMs outside of your bank's network -- on average 20% more compared with five or six years ago.
A new study by the U.S. Government Accountability Office says not only are more financial institutions adding fees for ATM use, but the estimated average surcharge for outside-of-network customers has gone up from $1.75 in 2007 to $2.10 last year.

And the GAO's analysis of ATMs run by independent operators -- the machines you use at gas stations, grocery shops and drugstores -- found their fees averaged $2.24 last year.
How do the banks explain the increase? According to the GAO, representatives from financial institutions view ATM access primarily as a service for their account holders, a way of giving customers 24/7 availability for simple transactions like getting cash and making deposits.
And when talking about costs for non-account-holding ATM customers, those banks cited three factors for their current fees: staying competitive with fees charged by other nearby ATMs, the operating costs of their ATMs, and a machine's expected usage or transaction levels.
For example, according to the report, "representatives from two large banks noted that surcharge fees help ensure ATM availability for their account holders while also making the service available as a convenience for nonaccount-holding customers. Furthermore, the surcharge revenues at some locations can subsidize expensive or unprofitable ATM locations such as airports, colleges, and business districts."
And industry observers say those ATM fees are expected to rise further because of federal regulations that limit some card fees and interest rates.

"Banks are looking for other sources of revenue," Bill Hardekopf, CEO of LowCards.com told CNNMoney, "now that the CARD Act and the Dodd-Frank bills took away some of their previous sources."
DATA PROVIDERS
Copyright © 2014 Microsoft. All rights reserved.
Fundamental company data and historical chart data provided by Morningstar Inc. Real-time index quotes and delayed quotes supplied by Morningstar Inc. Quotes delayed by up to 15 minutes, except where indicated otherwise. Fund summary, fund performance and dividend data provided by Morningstar Inc. Analyst recommendations provided by Zacks Investment Research. StockScouter data provided by Verus Analytics. IPO data provided by Hoover's Inc. Index membership data provided by Morningstar Inc.
MARKET UPDATE
[BRIEFING.COM] S&P futures vs fair value: -5.50. Nasdaq futures vs fair value: -11.80. U.S. equity futures continue holding modest losses with the S&P 500 futures down six points below fair value.

The Dollar Index began the night in the red after gaining 0.6% last week, but a steady rally off the lows has placed the index back near its flat line for the session. The dollar is currently little changed versus the yen (109.05), while the euro (1.2844) and the pound (1.6330) ... More
More Market News