Bling sting: Heist reflects new interest in diamonds
Robbers nab $50 million in gems in a daring theft. The hit comes as some funds hope diamonds could be the next big thing for commodities.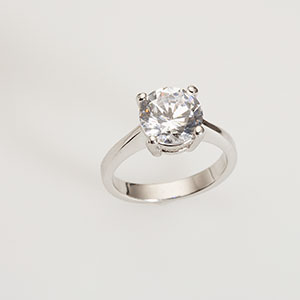 In a brazen European tarmac heist on Monday, eight armed robbers took off with $50 million worth of diamonds.

While the jewels have been valued for centuries for their strength and beauty, the heist comes at a delicate time for the diamond industry, as some hope the gems will become the next trend in commodity investing.

In December, the first diamond-based exchange-traded fund hit the market, and more are in the works.
ETFs are investment funds that trade like stocks but which often track an index. They've also become popular vehicles for investors seeking to make plays in gold, wheat and other commodities.
The attraction for gold and diamonds isn't only skin deep, however. Investors increasingly are putting money into gold and other commodities as a way to diversity into investments that aren't linked to the U.S. equity market. 
Now, fund managers want diamonds to become the new gold. Less than a decade ago, the SPDR Gold Shares (GLD) introduced the concept of buying ownership into the fund's physical gold holdings, stored in guarded vaults. The SPDR Gold Shares now has about $68 billion in assets under management, making it one of the country's largest ETFs.
The first diamond-based fund, the ISE Diamond/Gemstone ETF (GEMS) comes from PureFunds, an exchange-traded fund provider. While not buying up diamonds directly, the fund invests in firms that produce and sell the jewels, such as Harry Winston (HWD) and Signet Jewelers (SIG). 
More diamond-based funds are in the works. IndexIQ, a fund manager that offers hedge-fund strategies, is working on an ETF that invests in actual diamonds. The fund plans to hold "one-carat, gem quality diamonds of readily available, industry-standard diamonds in common use among diamond dealers." 
"Diamond is the last uncommoditized commodity, and so it's drawing in many organizations," IDEX Online editor Edahn Golan told The New York Times last year. 
But diamonds offer some unique challenges. For one, it's difficult to establish consistent pricing for the gems, given the variety of quality and cuts. The diamond industry has also been hurt by the taint of "blood diamonds," or diamonds mined in a war zone. 
And then there's the huge industry domination by De Beers, which maintains a market share of 40%, according to the Times. 
As for the diamond robbers, no arrests have yet been made. While they stole at least 120 packages of the jewels, worth $50 million, that's just a fraction of the $51.9 billion in diamonds traded in Antwerp last year, according to the Times.
More on moneyNOW
Ever see the scanning track for the Canadian diamond mines (yea, Canadian togography is rich in Kimberlite funnels where all diamonds are found). Ever see ther vaults under New York? Diamonds aren't rare and can be artificially created and sold daily at Macy's. The fact is-- each time there is a new direction, it's designed to fleece the cash from socially-pickled and demented fools. If you're Jones'ing for recognition, why not invest in something commonsense like-- the economy?

Diamonds as an investment commodity - what a joke. With the Kimberley Process refusing to ban all blood diamonds and over 90 civil society organisations calling for a ban on diamonds from Israel which fund war crimes in Palestine only a fool would invest in such a risky commodity the value of which is a fickle as fashion.


No, no, no I'm sorry....I won't be doing any ETF's into diamonds....they're not like gold or silver...currently we can make really good lower-cost man-made diamonds...diamonds just don't equate to precious metals. Can't see it...and will never see it. Diamond ETF's are Dangerous. I can feel and sense the danger....can you?

Diamonds being a high value tangible global asset that can be adorned, easily transported and traded globally will become more important in the emerging BRIC countries, than for Americans who traditionally purchase for adornment & size over investment, quality and wealth preservation purposes. Today with technology, diamond wholesalers, retailers, and "Prosumers" / Investors can easily stay informed using pricing tools like the DiamondMaster App to monitor their diamonds global "Wholesale List" values in 11 foreign currencies, in Exchange to Gold's Annual Moving Average, and in IMF's SDR (Special Drawing Rights) basket of currencies unit. Diamonds' "global values" are essentially un-pegged from the US Dollar when using the DiamondMaster App.
Are you sure you want to delete this comment?
DATA PROVIDERS
Copyright © 2014 Microsoft. All rights reserved.
Fundamental company data and historical chart data provided by Morningstar Inc. Real-time index quotes and delayed quotes supplied by Morningstar Inc. Quotes delayed by up to 15 minutes, except where indicated otherwise. Fund summary, fund performance and dividend data provided by Morningstar Inc. Analyst recommendations provided by Zacks Investment Research. StockScouter data provided by Verus Analytics. IPO data provided by Hoover's Inc. Index membership data provided by Morningstar Inc.
MARKET UPDATE
[BRIEFING.COM] The stock market finished the Tuesday session on the defensive after spending the entire day in a steady retreat. The S&P 500 (-0.6%) posted its third consecutive decline, while the small-cap Russell 2000 (-0.9%) slipped behind the broader market during afternoon action.

Equity indices were pressured from the start following some overnight developments that weighed on sentiment. The market tried to overcome the early weakness, but could not stage a sustained rebound, ... More
More Market News