Hockey is back, but will the fans return?
Cities and businesses that rely on NHL game revenue are breathing easier now that the lockout is over. But some analysts fear spectators may not care for the league anymore.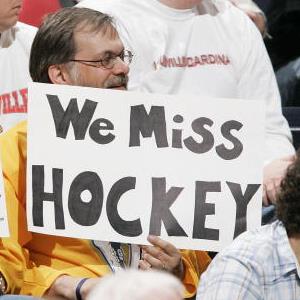 The National Hockey League hopes to pick up the pieces of this labor-dispute-shatte​red season on Saturday, when play resumes after a contentious 119-day player lockout.

NHL teams and sports broadcasters are hoping the public will be forgiving and return to root for their teams during this shortened season of 48 games plus playoffs -- to be played in less than 100 days.
And the NHL is indeed asking for forgiveness. The league took out full-page ads in about 40 newspapers across the U.S. and Canada Thursday apologizing for the lockout.

"We are committed to earning back your trust and support the same way it's earned on the ice: with hard work and unwavering dedication," the ad said. "Your cheers drive us forward and we're committed to making you proud to be a fan -- by delivering a game with the action, the skill and the intensity you deserve." 

The Associated Press estimates the lockout may put about $1 billion in overall NHL-related revenue on ice this abbreviated season. Parts of those losses are coming out of the pockets of local businesses that rely on NHL games in their towns.
Last month, as the lockout approached its fourth month, the U.S. Small Business Administration announced its representatives would be reaching out to business owners in the 23 cities hosting NHL teams -- to provide counseling and "to coach small businesses until the crowds return."
Those hotels, bars, restaurants and other services that rely on NHL hockey this time of year are hoping their bottom lines can bounce back once the puck drops.
"We're super stoked the lockout is over and the Sharks will begin playing games soon," Liberty Miller, manager of Los Gatos Brewing Company in San Jose, Calif., told Fox Business. The tavern is near HP Pavilion, where the San Jose Sharks had been playing to sold-out crowds.
"When the Sharks play, it brings customers to our restaurant," Miller said. "Without the games, we saw a significant decline in business. We usually hire more people during the NHL season but the lockout this year didn't allow us to do that. Rather it forced us to cut some employees' hours."
And a lot of NHL cities are also looking forward to the renewal of pro hockey money in their coffers.
According to the St. Louis Business Journal, officials in that city say they lost more than $1.3 million in revenue due to the lockout. Each St. Louis Blues home game brings in $65,000 for the city. 

But it remains to be seen if the NHL can kiss and make up with its jilted fan base. Marc Ganis, president of Sportscorp, a Chicago sports business consulting group, says he isn't convinced hockey enthusiasts still care about the NHL.
"They didn't hear a hue and cry from the fans, especially in the United States, when hockey wasn't played," he told AP. "That's very distressing. That indicates there's a level of apathy that is troubling. In contrast, in the NFL when there was a threat of canceling a preseason weekend, the nation was up in arms."
More on Money Now

The fans will be back like nothing happened - especially in the hockey towns.  It might be different in Tampa Bay, Atlanta, or Nashville, but the Midwestern teams, Northeastern teams, California & Colorado teams, and Canadian teams will be just fine.
The only real impact of this outside the NHL is for all the businesses that lost half a season of revenue and the employees that had their hours cut or were laid off as a result.
Are you sure you want to delete this comment?
DATA PROVIDERS
Copyright © 2014 Microsoft. All rights reserved.
Fundamental company data and historical chart data provided by Morningstar Inc. Real-time index quotes and delayed quotes supplied by Morningstar Inc. Quotes delayed by up to 15 minutes, except where indicated otherwise. Fund summary, fund performance and dividend data provided by Morningstar Inc. Analyst recommendations provided by Zacks Investment Research. StockScouter data provided by Verus Analytics. IPO data provided by Hoover's Inc. Index membership data provided by Morningstar Inc.
MARKET UPDATE
[BRIEFING.COM] The S&P 500 (-0.4%) remains near its low and is facing a bit of a challenge as five sectors display relative weakness, leaving the energy sector (-0.1%) as the top performer. The sector has received a measure of support from crude oil, which is higher by 0.9% at $91.73/bbl.

Elsewhere among commodities, gold futures ended the pit session with a gain of 0.3% at $1222.10/ozt, while silver and copper settled little changed at $17.78/ozt and $3.04/lb, respectively. ... More
More Market News