North Korea's odd interest in 25-year-old Texan
The dictatorship follows only three Twitter accounts, and one is a young American investor and world traveler.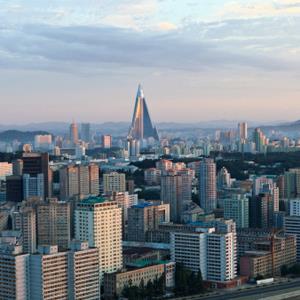 It's not easy being North Korea's sole American friend on Twitter. 

That's been the experience of 25-year-old Jimmy Dushku, described by Mother Jones as "the last and only American whom North Korea still follows" on the social-media network.
North Korea's handle, @uriminzok -- which means "our nation" -- ever only followed a few dozen people, until it started downsizing, leaving just three followers. Only one of them is an American, and it isn't Google (GOOG) executive Eric Schmidt, who this week visited the country.
Dushku, who's no relation to "Dollhouse" actress Eliza Dushku, is described as an independently wealthy investor from Austin, Texas, who started a website development business when he was 14. He's also a huge Coldplay fan -- having attended 60 concerts across the country -- and travels the world on private jets, according to the story.
Yet his social-media link to North Korea might be providing more notoriety than his lifestyle: He's been accused of being a sympathizer and even a secret agent. 
"One person wrote in detail about how he was going to come to my house and hurt me; others tell me they hope I die, or that they will be the one to do it," Dushku said. 
So how did Dushku get on North Korea's radar?
"I honestly can't remember," he said. "It started sometime back in 2010. I was initially surprised, but I always try to make friends with people from all different locations and backgrounds."
Dushku said he started communicating with @uriminzok with a friendly message reading in part, "I hope all is well."
Because of the threats, Dushku said he avoids Western media but will sometimes talk with Korean, Chinese and Japanese news agencies to show he's "not an uneducated and evil person."
He added that he doesn't have any links to North Korea or its leader, but that because of his friendly tweets he's received an offer from North Korean officials to visit. 
"I'd love to see the Arirang Festival in person," he said. That's country's mass gymnastics display that's been called "the strangest show on earth."
More on Money Now
DATA PROVIDERS
Copyright © 2014 Microsoft. All rights reserved.
Fundamental company data and historical chart data provided by Morningstar Inc. Real-time index quotes and delayed quotes supplied by Morningstar Inc. Quotes delayed by up to 15 minutes, except where indicated otherwise. Fund summary, fund performance and dividend data provided by Morningstar Inc. Analyst recommendations provided by Zacks Investment Research. StockScouter data provided by Verus Analytics. IPO data provided by Hoover's Inc. Index membership data provided by Morningstar Inc.
MARKET UPDATE
[BRIEFING.COM] Recent action saw the key indices inch to fresh lows for the session. Including today's decline of 0.8%, the S&P 500 is lower by 0.5% so far in September. Despite the loss for the month, the benchmark index has fared a bit better than its higher-beta peers. On that note, the Nasdaq has given up 1.3% so far this month, while the Russell 2000 is down 3.7% for the month. Elsewhere, the price-weighted Dow (-0.5%) trades ahead of the broader market today and is up 0.6% for the ... More
More Market News