Miller Lite goes all out to stop the leakage
The struggling brand brings in celebrities and a new bottle to reverse declining sales, but bigger problems are draining its appeal.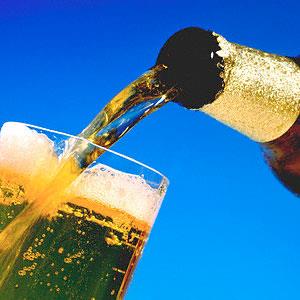 Great taste? Less filling? Nobody cares.
America has become a fairly contentious society as it is, so debating Miller Lite's finer attributes just doesn't hold the appeal it did in lighter times. That's forcing Miller Lite's parent companies, MolsonCoors (TAP) and SABMiller, and their U.S. joint venture MillerCoors to enlist some celebrities to help it reset American drinkers' clocks to "Miller Time."
According to AdAge, Vince Vaughn, "Hangover III" co-star Ken Jeong, former mixed martial arts star Chuck Lidell and drummer Questlove from The Roots are all slated to appear in a new round of Miller Lite ads. It's a step away from the Miller Lite "man up" ads and a nod to the brand's "Miller Lite All-Stars" glory days of the mid-'70s and '80s.

But these 14 new ads are going to have to be pretty special to stop the leakage for the sinking light beer brand.
Sales of Miller Lite, the No. 4 beer brand in the U.S., have been dropping steadily since the start of the recession. Beer Marketer's Insights showed sales falling 3% in 2012 after posting annual declines as high as 6.6% since 2009. Meanwhile, MillerCoors stablemate Coors Light has hiked sales over the same span and just last year wrested the No. 2 spot away from Anheuser-Busch InBev's (BUD) slumping Budweiser.
Miller Lite's parent companies are also hoping a new bottle available only in bars and restaurants starting in May will help stop the slide. Unfortunately, packaging or visibility isn't the problem for Miller Lite and other big beer brands. Beer sales overall rose 1.4% last year, but light beer has been falling out of favor for some time.
Bud Light remains the top-selling beer in America, with a 19% share of the market, but its sales have fallen by roughly 2% each year since 2009. Even discount brands like Natural Light and Keystone Light lost 7.8% and 4.3% of their sales, respectively, in 2011. Only Coors Light managed even minor gains.
The problem isn't quality or competition from imports and small brewers, but the economy. Washington-based beer industry organization The Beer Institute say it's not that other brands are on the rise but that mainstay brands are on the decline as consumers curb their spending. Saying "beer isn't recession-proof," The Beer Institute notes that big beer's key working-class demographics were hardest hit during the economic downturn and are still less likely to splurge on 30-packs as a result.
Few beer companies know this better than MillerCoors, which saw sales drop 1.8% in 2012 despite overall industry growth. The idea of "Miller Time" implies punching out after a long shift and settling down with a cold one. When large swaths of customers don't have a job to punch out of, even a parade of celebrities and shiny new wrapping won't put "Miller Time" back on the schedule.
DATA PROVIDERS
Copyright © 2014 Microsoft. All rights reserved.
Fundamental company data and historical chart data provided by Morningstar Inc. Real-time index quotes and delayed quotes supplied by Morningstar Inc. Quotes delayed by up to 15 minutes, except where indicated otherwise. Fund summary, fund performance and dividend data provided by Morningstar Inc. Analyst recommendations provided by Zacks Investment Research. StockScouter data provided by Verus Analytics. IPO data provided by Hoover's Inc. Index membership data provided by Morningstar Inc.
MARKET UPDATE
[BRIEFING.COM] Equity indices remain near their flat lines as heavily-weighted sectors continue trading in mixed fashion.

At this juncture, the industrial sector (-0.6%) is the weakest performer among cyclical groups with defense contractors pressuring the space. The PHLX Defense Index is lower by 1.1% with just about every component trading lower. Including today's decline, the Defense Index is now down 2.4% for the week and off 0.7% so far in September. On the upside, General ... More
More Market News