You won't believe what's in this pizza
Pizza Hut's Singapore branch tops one pie with another -- and adds a cherry on top -- as Yum Brands struggles with sales.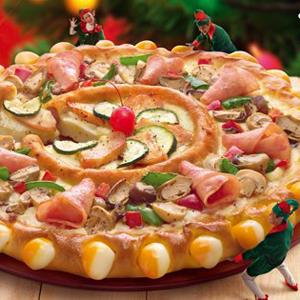 When Yum Brands' (YUM) Pizza Hut research and development teams look around their test kitchen, wonder what item they haven't stuffed into a pizza yet and finally decide on "another pizza," those Mayan apocalypse predictions don't seem that far off.
Because a meeting of the Pizza Hut's international branches is apparently either a shouting match between the craziest voices in the room or a recreation of the Mel Gibson-Gary Busey brawl from "Lethal Weapon," the pizza chain's Singapore division topped Canada's Pizza Hut perfume by shoving a stuffed crust pie into yet another stuffed crust pie and calling it the "Double Sensation." 
As described by Brand Eating, the outer pizza's crust is packed with melted mozzarella, Parmesan and cheddar cheeses and then stabbed along its perimeter to allow the cheese melange to ooze out and form baked cheese balls. That pie is then given a base of salsa and topped with turkey ham, bell peppers and mushrooms.
A small inner pie sits in the center like a dip bowl in a party platter and is ringed with a crust stuffed with cheese-filled chicken sausage. That little pizza bowl is then filled with smoked chicken, zucchini and a pepper Alfredo sauce and the whole savory, stuffed-crust sundae is topped with a cherry in the center. Because, you know, how else would the cook know when to stop?
Don't blame Singapore for this. Its Pizza Hut division was basically backed into a corner when Eater revealed Pizza Hut Middle East's plans to stuff their crusts with hamburgers and chicken fingers earlier this year. Middle Eastern Pizza Huts also called dibs on pizzas ringed with Parmesan-crusted dough cones stuffed with cream cheese or honey mustard chicken and desserts featuring Kit Kat bars baked into balls of pizza dough.
Meanwhile, Pizza Hut in the United Kingdom beat its American counterparts to their own iconic fast food by stuffing hot dogs into its crust, as Japan and Thailand have for several years. It all makes Pizza Hut's cheese-ball-ringed Cheesy Bites Pizza offered in the U.S. seem puritanical by comparison, but parent company Yum Brands hasn't stopped feeding America's reputation for obesity entirely.
Two years ago, Yum captured U.S. imaginations and strained its capillaries with KFC's Double Down sandwich that was little more than bacon lodged in a "bun" made of two pieces of fried chicken. This year alone, Yum gave the states Taco Bell tacos housed in shells made from Doritos and KFC Mac and Cheese bites that were basically a bowl of macaroni and cheese molded into cubes and sold as a side dish.

It all seemed to work last quarter, as Yum Brands profits increased 19% behind increased sales in both the U.S. and abroad. Yum's competitors have been a bit more hesitant to play fast-food Frankenstein in recent years. McDonald's (MCD) has experimented with premium angus burgers, gourmet coffee and smoothies, but is revisiting its McRib roots this month after slumping October sales indicated customers wanted cheap and familiar options. Burger King (BKW), meanwhile, offered up a bacon sundae this summer before ending its pursuit of the 18- to 34-year-old male demographic and adding premium chicken sandwiches and smoothies for everyone else.
Outliers like Carl's Jr. (CKE), Friendly's and Denny's (DENN) will occasionally offer up footlong cheeseburgers, burgers with grilled-cheese sandwich buns or a grilled cheese stuffed with mozzarella sticks, as each chain did, respectively, in 2010. Health concerns and a competitive market of less gastronomically destructive options steer most fast-food chains away from such munchie-soothing monstrosities.
Even Yum's pigout may end after this quarter, as slumping sales in China already have the company preparing Wall Street for leaner times. If China's economic woes turn into fast-food's fiscal cliff, the Double Sensation and its predecessors could represent the last moments of the industry's calorie-laden gilded age. When the patties stop piling up and the crusts go unstuffed, it's the closest extreme fast-food gets to Armageddon.
More from Money Now
DATA PROVIDERS
Copyright © 2014 Microsoft. All rights reserved.
Fundamental company data and historical chart data provided by Morningstar Inc. Real-time index quotes and delayed quotes supplied by Morningstar Inc. Quotes delayed by up to 15 minutes, except where indicated otherwise. Fund summary, fund performance and dividend data provided by Morningstar Inc. Analyst recommendations provided by Zacks Investment Research. StockScouter data provided by Verus Analytics. IPO data provided by Hoover's Inc. Index membership data provided by Morningstar Inc.
MARKET UPDATE
[BRIEFING.COM] The stock market began the new trading week on the defensive note with small-cap stocks pacing the retreat. The Russell 2000 (-1.4%) and Nasdaq Composite (-1.1%) displayed relative weakness, while the S&P 500 lost 0.8% with all ten sectors ending in the red.

Global equities began showing some cracks overnight after China's Finance Minister Lou Jiwei poured cold water on hopes for new stimulus measures. Specifically, Mr. Lou said the government has no plans to change ... More
More Market News