Why media's Boston Marathon miscues matter
With the mainstream outlets under severe financial pressure, major coverage errors didn't help their cause.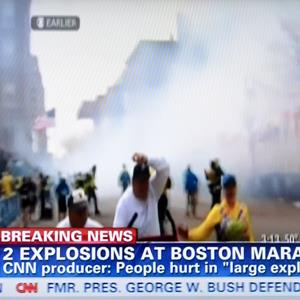 The missteps in media coverage of the Boston Marathon bombings should serve as a wake-up call for
News Corp.
(
NWS
),
Time Warner
(
TWX
) and other kings of content and their shareholders.
Newer, nimbler companies such as Twitter are emerging as the source for breaking news, and luckily for them, they don't need to spend a nickel on writing or editing. Of course, were it not for the mainstream media, these sites couldn't exist. It is the ultimate irony.
Still, the mainstream media as we know it is changing. News Corp., which is run by tycoon Rupert Murdoch, is in the midst of severing its slow-growing publishing business from its TV and movie divisions.
The New York Post, a tabloid that has lost money for years, will no longer be able to count on profitable businesses such as Fox News to subsidize it. That means the next time the paper makes grievous errors, as it did in the Boston Marathon story, its corporate masters may be less inclined to clean up its mess. News Corp.'s shutdown of the News of the World after a phone-hacking scandal in the U.K. proves this point.
This represents a sea change for Murdoch, who for decades has been motivated by a desire to increase his influence more than his shareholders' returns. In 2007, he bought Dow Jones & Co. for $5 billion, paying a 67% premium for a company that no one else wanted at the time.
People who can invest in the news business are often motivated by ideology, such as the Koch Brothers, who reportedly want to buy
the Tribune newspapers
. Then there's Warren Buffett, who's so wealthy that he can afford to have an investment horizon of "forever."
Time Warner's CNN, whose Boston Marathon coverage has been ridiculed for its errors, unfortunately, isn't so lucky. The company is hoping for a better performance from CNN. According to
Project for Excellence in Journalism
, the all-news channel earned about $413 million in profit on $1.1 billion in revenue in 2012, well behind the $986 million in profit and $1.8 billion in revenue earned by Fox News.
CNN has a longer leash than the New York Post, but it can't afford to botch big stories, either, because its needs all the advertisers it can get.
The media's miscues in Boston were unfortunate but hardly surprising. Just look at the gossip news. Three years ago,
William Shatner
had to deny a ludicrous story that he was a worth $600 million because he had been paid in
Priceline.com
(
PCLN
) shares for appearing in the company's commercials. A clearly annoyed Shatner wound up issuing a statement over Twitter denying the whole thing. Everyone got a good laugh.
Unfortunately,
Abdulrahman Al Alharbi's situation
is not amusing in the least. Although he was never implicated by name, the Saudi college student's name was dragged through the mud by the New York Post among others in connection with the bombings in Boston. 
If the media can't get the little stories right, it has no hope for the big ones.
Jonathan Berr does not own shares of the listed stocks. Follow him on Twitter @jdberr.

When these kinds of panic situation
****
uch as the Newtown disaster, accurate news is hard to get.  This time I noticed that MSNBC was wary of stating anything as fact. Since I didn't watch CNN, I don't know what their problems specifically were.  But there are lots of folks all over the country who have a stake in any tragedy that occurs and we depend on the news to do the best they can to get things right.  For the most part, and I watched closely on the Boston incident, so I know that occasionally the news had to report changes.  I have no problem with that.  Sources can be wrong but that is all the media has at the time and MSNBC so stated that.  If CNN had poor sources, they need to make some changes.
Are you sure you want to delete this comment?
DATA PROVIDERS
Copyright © 2014 Microsoft. All rights reserved.
Fundamental company data and historical chart data provided by Morningstar Inc. Real-time index quotes and delayed quotes supplied by Morningstar Inc. Quotes delayed by up to 15 minutes, except where indicated otherwise. Fund summary, fund performance and dividend data provided by Morningstar Inc. Analyst recommendations provided by Zacks Investment Research. StockScouter data provided by Verus Analytics. IPO data provided by Hoover's Inc. Index membership data provided by Morningstar Inc.
MARKET UPDATE
[BRIEFING.COM] The major averages posted solid gains ahead of tomorrow's policy directive from the Federal Open Market Committee. The S&P 500 rallied 0.8%, while the Russell 2000 (+0.3%) could not keep pace with the benchmark index.

Equity indices hovered near their flat lines during the first two hours of action, but surged in reaction to reports from the Wall Street Journal concerning tomorrow's FOMC statement. Specifically, Fed watcher Jon Hilsenrath indicated that the statement ... More
More Market News