Delta wants iPads for its pilots
The carrier says access to real-time data can improve safety and fuel efficiency. Lawmakers and consumers, meanwhile, are asking for more in-flight access to electronics.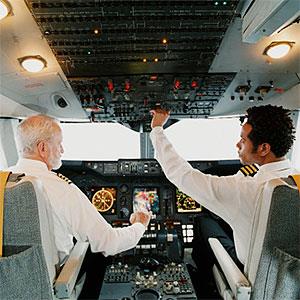 Delta Airlines (DAL) is requesting permission from the federal government to use some of the same off-the-shelf electronics consumers buy to monitor a serious aviation problem: in-flight turbulence.

The National Transportation Safety Board reports such turbulence accounts for more than a third of accidents on airplanes -- often resulting in serious injury to a passenger or crew member.

With that in mind, Delta recently petitioned the government let the carrier use Apple (AAPL) iPads as turbulence monitors on their Boeing (BA) 737s, via the aircraft's Wi-Fi connection -- which the airline says would let their flight crews access turbulence data in real time.
The Federal Aviation Administration, according to the Atlanta Business Chronicle, "has prohibited the use of Wi-Fi devices on the flight deck when engines are operating for the purposes of flight in B737-700/800 aircraft."
So Delta is asking for an exemption -- saying it would use the iPads only during non-critical phases of flight during the approximately one year needed for the research effort.
Delta says allowing pilots access to the turbulence data has a lot of benefits; including more safety for passengers and crew, less unnecessary air traffic control "chatter" and lower greenhouse gas emissions from planes.

The FAA, under pressure from lawmakers and some electronics organizations, has been re-evaluating its policies that ban the in-flight use of cell phones, tablets and other portable electronic devices.

"We live in an increasingly connected world, and information is traveling at the speed it takes our email to refresh," Missouri Sen. Claire McCaskill wrote last month. "The current rules are inconvenient to travelers, don't make sense, and lack a scientific basis. Airline employees have the incredibly important job of keeping us safe in the air-their efforts are better spent worrying about rules that actually accomplish that goal."
Meanwhile, some airlines have already been given FAA approval to let their pilots use iPads in the cockpit -- replacing heavy paper flight manuals with what the New York Times calls an electronic flight bag.

"Private pilots, too, are now carrying iPads," says the Times, "which support hundreds of general aviation apps that simplify preflight planning and assist with in-flight operations" and which, most importantly, do not interfere with flight instruments.
More on Money Now
DATA PROVIDERS
Copyright © 2014 Microsoft. All rights reserved.
Fundamental company data and historical chart data provided by Morningstar Inc. Real-time index quotes and delayed quotes supplied by Morningstar Inc. Quotes delayed by up to 15 minutes, except where indicated otherwise. Fund summary, fund performance and dividend data provided by Morningstar Inc. Analyst recommendations provided by Zacks Investment Research. StockScouter data provided by Verus Analytics. IPO data provided by Hoover's Inc. Index membership data provided by Morningstar Inc.
MARKET UPDATE
[BRIEFING.COM] The stock market began the new week on a cautious note. The S&P 500 lost 0.3%, but managed to erase more than half of its opening decline. Thanks to the rebound, the benchmark index reclaimed its 50-day moving average (1976.78) after slipping below that level in the morning.

Equities slumped at the open amid a couple global developments that dampened the overall risk appetite. Continued student protests in Hong Kong and a potential response from China weighed on the ... More
More Market News