High-tech fork counts your mouthfuls
The new electronic utensil tracks the bites you take and the time spent chewing. Its creators hope it will help people slow down while dining.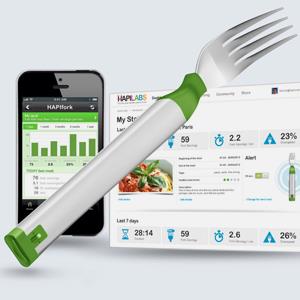 The first weeks of the new year are a time for new exercise and diet regimens. And while many optimistic resolutions end up going nowhere, scores of companies have products to help with those shiny new goals.

One of those devices is generating some buzz out of this year's Consumer Electronics Show in Las Vegas. The HAPIfork is an electronic utensil designed to slow down eating habits, improve digestion and help with weight control.
The gadget itself looks like a conventional fork, except for its sensor-filled handle.
According to Hong Kong's HAPIlabs, the device monitors every time you bring food from your plate to your mouth. If you're eating at a proper rate, about eight to 10 seconds per mouthful, a light in the fork's handle will remain green. But if you're eating too fast the fork will vibrate and the light switches to red.

HAPIlabs notes this type of eating behavior research is still in its early stages. "Currently, we can only observe and describe eating patterns," it says on its website. "For example, we noticed that people who seem to eat at a reasonable pace use the fork 60 to 75 times during meals lasting from 20 to 30 minutes."
And all that information can also be uploaded online, via USB or Bluetooth, if you want to monitor your eating habits and data that much more carefully.

"You can be told to eat slowly, but you usually forget," HAPIfork inventor Jacques Lépine, an engineer from France, told the Los Angeles Times. "This way, your mind doesn't have to do the work."
And Renée Blodgett, the company's head of marketing, says the fork is unobtrusive and meant for daily use: something you can bring to a restaurant without drawing undue attention.
At $99, the HAPIfork comes with a 21-day coaching program as well as an online dashboard and mobile app to store your eating data. It also has an online social game "designed to motivate you to implement new good habits with your loved ones." It will launch in the U.S. and France later this year.
Is it dishwasher safe? "Yes, absolutely," says Blodgett. "The French would never leave that detail out."
While a clever piece of technology, a smart fork is only so smart; it cannot, for example, tell the difference between a forkful of salad or cheesecake.

More on Money Now

About moneyNOW
moneyNOW brings users smart, original and entertaining takes on the latest business and investing topics that are buzzing on the web.
MARKET UPDATE
[BRIEFING.COM] S&P futures vs fair value: -3.30. Nasdaq futures vs fair value: -9.80. A lack of buying interest at the moment has the futures market on the defensive and signalling a slightly lower start for the cash market after last week's 2.1% advance in the S&P 500. There has been a smattering of M&A activity this morning, yet the expectation that there could be some early profit taking has kept a lid on the market's enthusiasm. Separately, a lot of attention is ... More
More Market News
TOP STOCKS
Scary story: Why 2013 looks like 1987
All hail the bull market, which ended the week with a big rally. But it also is starting to look a little like 1987, which suffered an epic blow-out.