How state beer taxes hike 6-pack prices
Because local levies differ drastically depending on regional politics, where you live has a lot to do with what you pay.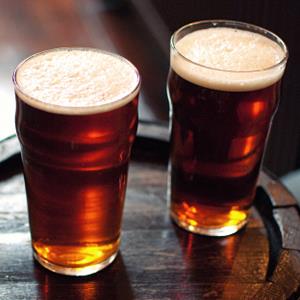 Brewers and beer lobbyists are working legislation through Congress that would put tighter caps on federal beer excise taxes. But some states charge up to double the federal rate, draining consumers' beer money and skewing sales.
Washington, D.C., lobbying group the Beer Institute and a number of breweries -- with help from U.S. Reps. Tom Latham, R-Iowa, and Ron Kind, D-Wis., and 33 co-sponsors -- are pushing the Brewers Excise and Economic Relief Act of 2013 (BEER Act), which would reduce the federal excise tax on beer for all brewers and beer importers.
Craft beer industry group the Brewers Association, meanwhile, is making its own play for lower excise taxes on upstart brewers with the Small Brewer Reinvestment and Expanding Workforce Act (Small BREW Act). Sens. Ben Cardin, D-Md., and Susan Collins, R-Maine, have signed on to that particular piece of legislation.

Yet CNNMoney noted Tuesday that states also have a stake in beer excise taxes, and the amount they charge varies wildly. Tennessee, for example, tacks on an extra 66 cents for every six-pack of beer a customer buys, according to The Tax Foundation -- or double the federal rate of 33 cents per six-pack. That's the highest rate in the country and contrasts starkly with Wyoming, which charges a token penny per six-pack at the low end of the tax scale.
So why does it vary so widely, as shown by this CNNMoney map? Political clout may have a bit to do with it. In Tennessee, for example, while brewers bear a heavy tax burden, whiskey makers such as Jack Daniel's parent company Brown Forman (BF.A) have enough pull to keep excise taxes on their product at 30th in the nation.

Meanwhile, in Missouri (3 cents per six-pack), Wisconsin (3 cents), Colorado (5 cents), Pennsylvania (5 cents) and Oregon (5 cents) -- states where Anheuser-Busch (BUD), SABMiller, MolsonCoors (TAP), D.G. Yuengling & Son and the Craft Brew Alliance (BREW), respectively, turn water and hops into jobs and GDP -- beer excise taxes are among the lowest in the country.

Washington state, however, home to a thriving craft beer community and brewing industry, pays one the top 10 rates in the country at 43 cents per six-pack. Minnesota, with an excise tax of 27 cents per six-pack, pays nine times what its neighbors in Wisconsin do.
Tack that on to the existing federal excise tax, state sales tax, bottle fees or other alcohol-specific levies, and it makes a big difference in the price of beer. According to the Beer Institute, taxes make up more than 40% of beer's retail price. That's just fine by Alcohol Justice, an anti-drunken-driving​ group that wants all state beer taxes hiked to reduce consumption and pay for abuse prevention and health care programs.
But as the Beer Institute notes, the recent recession made it clear just who'll stop buying when beer taxes rise: blue-collar buyers.

"These are guys who drink premium and premium light brands, because it's affordable and that's what middle-class Americans drink," Beer Institute spokesman Chris Thorne told MSN Money in January. "Meanwhile, Wall Street bankers, lobbyists and other well-paid professionals survived the Great Recession just fine and continued to plunk down big bucks for high-end beer, thereby growing their share of market."

DATA PROVIDERS
Copyright © 2014 Microsoft. All rights reserved.
Fundamental company data and historical chart data provided by Morningstar Inc. Real-time index quotes and delayed quotes supplied by Morningstar Inc. Quotes delayed by up to 15 minutes, except where indicated otherwise. Fund summary, fund performance and dividend data provided by Morningstar Inc. Analyst recommendations provided by Zacks Investment Research. StockScouter data provided by Verus Analytics. IPO data provided by Hoover's Inc. Index membership data provided by Morningstar Inc.
MARKET UPDATE
[BRIEFING.COM] The stock market finished the Tuesday session on the defensive after spending the entire day in a steady retreat. The S&P 500 (-0.6%) posted its third consecutive decline, while the small-cap Russell 2000 (-0.9%) slipped behind the broader market during afternoon action.

Equity indices were pressured from the start following some overnight developments that weighed on sentiment. The market tried to overcome the early weakness, but could not stage a sustained rebound, ... More
More Market News