When work bulldozes your personal life
A former Wall Street hotshot writes a moving essay about how her constant focus on work led her to sacrifice everything else.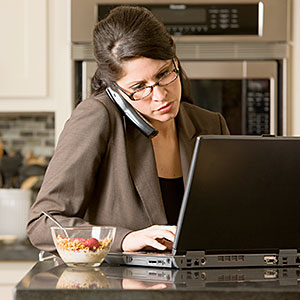 Erin Callan climbed to the highest echelons of Wall Street, serving as chief financial officer of
Lehman Brothers
at just 41 years of age. She smashed through the glass ceiling as her brains, her personality and her good looks fueled a superstar career.
But that life came crashing down in 2008, when she resigned weeks before Lehman declared bankruptcy. She spent a few months working at
Credit Suisse
(
CS
), Fortune
reports
, but then just seemed to vanish.
But this month, Callan
published a moving essay
in The New York Times explaining just what happened to her, and how her intense focus on work ruined so much of her personal life.
She didn't start out as a slave to work, she writes. "It crept in over time. Each year that went by, slight modifications became the new normal." She started doing a little email organizing on Sundays. That turned into a few hours on Sundays, and eventually all day.
She never had children -- perhaps because there was just no time. Her marriage ended. Work was her top priority above anything and anyone else.
"I did have relationships -- a spouse, friends and family -- and none of them got the best version of me," she wrote. "They got what was left over."
Now, at age 47, Callan has finally found the rest of her life. She remarried, and has tried for years to have a child with her husband through in vitro fertilization.
She said she would never wish her grueling, unbalanced approach to her career on anyone.
"I am beginning to realize that I sold myself short," she writes. "I was talented, intelligent and energetic. It didn't have to be so extreme. Besides, there were diminishing returns to that kind of labor."
Her life story is a great lesson. Do we have to jump on email as soon as we wake up? Do we need to eat lunch at the desk? Callan said she was even flying to meetings in Europe on her birthday.
The financial crisis was exactly the wakeup Callan needed to discover what was missing in her life. Without that crisis, she writes, she might never have stepped off the gas pedal. "Perhaps I needed what felt at the time like some of the worst experiences in my life to come to a place where I could be grateful for the life I had," she said. "I had to learn to begin to appreciate what was left."
A relationship with an Employer is a one way street: you give and they take. There is always a lot of HR window dressing about how employees are so valued. They always tell you it's how you manage your time but there is never enough time. They say to just do the best you can but, boy, you had better have the results. 

I have been through a similair experience. Was working and traveling alot. My record work week was 92.5hrs (+more not recorded).  I would go to Europe and back in 36hrs.Never would ask for raise or compensation (young and fullish).
Finially I learned due to various changes that all my effort was for someone else's good. 
Now I only put extra time (more than 40hrs a week, as agreed upon when hired) in on request.  I watch others working the 12hrs plus days and listen to them complain and laugh to myself.
When companies lost there loyalty to employees I lost mine to the company. Every day look for better opportunites and a way to make more doing less in less time.  Find it stomache wrenching to see unqualified people in elite positions with large pay while as an Engineer I am stuck in the trenches with pay thata person right out of high school could make in construction and other jobs.
 Chip

I have found that working late, in addition to  6-1/2 to 7 days gets you praise.  Sometimes it even gets you a little more money and a much better title.  But, the bottom line is that they use you up and spit you out.  A book written sometime in the 80's was a good example...I believe it was &quote, "THE SOUL OF A NEW MACHINE".
Are you sure you want to delete this comment?
DATA PROVIDERS
Copyright © 2014 Microsoft. All rights reserved.
Fundamental company data and historical chart data provided by Morningstar Inc. Real-time index quotes and delayed quotes supplied by Morningstar Inc. Quotes delayed by up to 15 minutes, except where indicated otherwise. Fund summary, fund performance and dividend data provided by Morningstar Inc. Analyst recommendations provided by Zacks Investment Research. StockScouter data provided by Verus Analytics. IPO data provided by Hoover's Inc. Index membership data provided by Morningstar Inc.
MARKET UPDATE
[BRIEFING.COM] The stock market began the new trading week on the defensive note with small-cap stocks pacing the retreat. The Russell 2000 (-1.4%) and Nasdaq Composite (-1.1%) displayed relative weakness, while the S&P 500 lost 0.8% with all ten sectors ending in the red.

Global equities began showing some cracks overnight after China's Finance Minister Lou Jiwei poured cold water on hopes for new stimulus measures. Specifically, Mr. Lou said the government has no plans to change ... More
More Market News