Americans start to like beer again
After 4 years of declines, sales see a slight pickup as interest in craft brews and imports remains strong.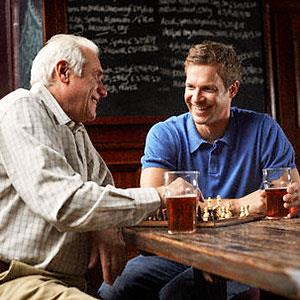 Beer sales in the U.S. are finally picking up again after four years of declines.
The 2012 increase in beer sales wasn't huge -- only about 1.4% -- but at least one worrisome trend for brewers appears to have reversed,
reports
The New York Post.
And while craft brews and imports appear to be responsible for much of the growth, even the biggest names in the business saw improvements as well. In fact, many brewers were able to raise prices last year, which helped them bring in more revenue, the Post reports.
A few other factors helped sales last year, including cheaper gas, plenty of leap-year partying and a warm, dry winter in parts of the country, said Brian Sudano, the managing director of Beverage Marketing, according to the Post.
Anheuser-Busch InBev
(
BUD
) said its sales volumes grew in the U.S. last year for the first time since 2008,
according to
The Los Angeles Times. But the company still expected weak returns for the current quarter due to less disposable income and bad weather.
The company hit a notable milestone late last year: For the first time, more Budweiser was sold overseas than within the U.S. Sales were especially strong in China, Budweiser's No. 2 market, the Times reports.
Coors Light saw its eighth year of volume growth in the U.S. last year, but
MillerCoors
suffered some setbacks with its other brands. Miller Lite fell by low-single digits for the year, and sales to retailers of Miller64 dropped by high-single digits.
Although MillerCoors saw strong response to its Blue Moon and Jacob Leinenkugel brands, overall its domestic sales to retail fell by 1.3% last year. MillerCoors is a joint venture of
SABMiller
(
SBMRY
) and
Molson Coors Brewing Co.
(
TAP
).
About moneyNOW
MoneyNOW brings users smart, original and entertaining takes on the latest business and investing topics that are buzzing on the Web.
MARKET UPDATE
[BRIEFING.COM]
July crude oil lifted off its session low of $93.04 per barrel set moments after floor trade opened and trended higher for the remainder of its session. Despite a good effort, the energy component settled 3 cents in the red at $94.11 per barrel, slightly below its session high of $94.29 per barrel. Today's slight decline brought the week's losses to 2.3%.
June natural gas traded in the red in a tight range between $4.22 and $4.25 per MMBtu. Although it settled 0.5% ... More
More Market News
TOP STOCKS
5 stocks to watch for next week
Costco and Tiffany to report earnings. Consumer confidence index for May to be released. Carnival slashes prices to attract customers after a string of accidents. Pending home sales for April are due.