Fed promises low rates until jobs picture improves
The central bank will buy more bonds to keep interest rates at ultra-low levels until unemployment drops below 6.5%. A goal is to try to offset any fiscal cliff effects. Stocks churn higher, then fade.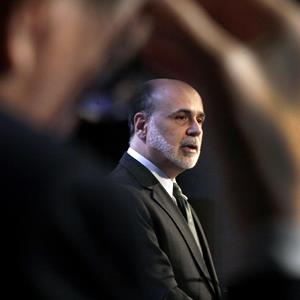 Updated 4:27 p.m. ET


The Federal Reserve reaffirmed its commitment Wednesday to low interest rates for an indefinite period of time, a move that ensures low costs on mortgages, auto and business loans and government and corporate bonds.
The central bank agreed to keep the target on its federal funds rate -- the foundation on which all U.S. interest rates are built -- at 0% to 0.25%. And it agreed to expand dramatically its bond-buying programs to ensure that rates will, in fact, stay low.
More importantly,
the Fed said
that it will keep rates low as long as the national unemployment rate is above 6.5% and inflation is no more than a half-percentage point above its target range of 2% a year. This is the first time the Fed has tied its monetary policy to the unemployment rate.
Financial markets were pleasantly surprised by the move at first. What was a solid rally faded, however, into the close as markets picked up on Fed Chairman Ben Bernanke's worries about how the economy would be hurt if Congress and the White House can't agree on a plan to avoid the fiscal cliff. That is a combination of tax increases and spending cuts designed to reduce the deficit.
The
Dow Jones industrials
(
$INDU
) and
Standard & Poor's 500 Index
(
$INX
) were slightly ahead before the announcement and moved higher when the statement was released. The Dow rallied up as many as 81 points, but the blue chips lost all of the gain, finishing down 3 points to 13,245. 
The S&P 500 closed up 1 point 1,428. The
Nasdaq Composite Index
(
$COMPX
) was down 8 points to 3,014. The
Nasdaq-100 Index
(
$NDX
) was off 8 points to 2,675.
Apple
(
AAPL
) was a big reason for the Nasdaq-100's decline, falling $2.64 to $538.75.
Global markets had closed higher ahead of the decision.
Gold
(
-GC
) moved up to $1,717.90 an ounce, a gain of $8.30.
Crude oil
(
-CL
) in New York settled at $86.77 a barrel, up 98 cents.
The central bank said the economy continued to expand "at a moderate pace." It noted, however, that job growth continues to be slow. The November unemployment rate was 7.7%, down from October's 7.9% but only because of a decline in the work force.
The Fed statement came at 12:30 p.m. ET. It was followed by a release of new Fed economic projections at 2 p.m, just before Bernanke's news conference began.
Payroll employment was up by a lukewarm 146,000 in November, just under the 2012 average of 150,000 jobs created every month. But jobs expanded at more than 230,000 a month in December 2011 and January and February 2012. 
The
Fed's projections
see unemployment hovering at current levels through the end of the year and falling slightly in 2013. The projections represent the views of the presidents of the 12 Federal Reserve banks and the 7 members of the Federal Reserve Board.
Growth in gross domestic product, the common measure of economic activity, were projected at 1.7% to 1.8% in 2012 and expand to 2.3% to 3% in 2013. Neither is an especially good growth rate.
One motivation in the Fed's thinking has been that it needs to try to offset the effects of the fiscal cliff set to kick in on Jan. 1 unless the Obama administration and Congress can agree to a deal. But Bernanke warned at his news conference that the Fed can not offset all the effects of the fiscal cliff provisions, which were part of a 2011 budget act.
Many economists believe that, if the government goes over the cliff, the result will be fewer jobs created as the economy sinks back into recession.
At his news conference Wednesday afternoon, Bernanke said the worries about the political problem are hurting the economy already. Businesses are deferring investment decisions and are holding back on hiring new workers. The Fed can mitigate some of the cliff's effects, Bernanke said, its overall set of tools won't be able offset all of the effects.
The odds of getting around the fiscal cliff appeared to be sinking on Wednesday. Democrats don't believe Republicans are serious about compromise and say the GOP will fight President Obama's proposal to boost tax rates on the most affluent Americans to the bitter end.
The president did agree, reports said, to consider lowering the top corporate income tax rate from 35%.
Republicans, meanwhile, complain that the Democrats aren't serious about cutting spending.
The noise Wednesday is that a deal won't be struck until after Christmas at the earliest.
The Fed's decision included an agreement to change what's been called Operation Twist. That's a program to sell short-term Treasury securities and buy longer-term issues. This will be replaced by a new program that the media have dubbed QE4 (short for Quantitative Easing, round 4) that buys in Treasury and mortgage-backed bonds at a rate of $45 billion a month that's not offset by sales of other securities. That goes with a program to buy mortgage-backed securities at a rate of $40 billion a month.
The decision to tie the Fed's stimulus to the unemployment rate was a new wrinkle to try to help the economy fully recover from the 2008-2009 financial crash. A 6.5% unemployment rate is not the Fed's goal, Bernanke said, but it's a signal that the Fed needs to start thinking about raising the cost of credit. The idea was formulated during the fall, Bernanke said. The Fed announced it on Wednesday because Bernanke was scheduled to hold a news conference.
The big question is if the bond-buying programs are having much effect on the domestic economy. Job creation is modest at best. GDP is probably growing at a rate of 2% or less.
Consumers increasingly are worried about the fiscal cliff and are giving hints they may curtail their own spending.
But auto sales have been showed solid gains all year, and many housing markets are beginning to expand thanks to low mortgage rates, declining inventories of foreclosed homes, and some confidence that job markets are stable.
There are two risks to the Fed's low-interest-rate policy. One is a new bout of inflation. The other is that companies and deal-makers will assume greater risks on selling bonds to finance new ventures.
More from Money Now
DATA PROVIDERS
Copyright © 2014 Microsoft. All rights reserved.
Fundamental company data and historical chart data provided by Morningstar Inc. Real-time index quotes and delayed quotes supplied by Morningstar Inc. Quotes delayed by up to 15 minutes, except where indicated otherwise. Fund summary, fund performance and dividend data provided by Morningstar Inc. Analyst recommendations provided by Zacks Investment Research. StockScouter data provided by Verus Analytics. IPO data provided by Hoover's Inc. Index membership data provided by Morningstar Inc.
MARKET UPDATE
[BRIEFING.COM] The stock market finished the Tuesday session on the defensive after spending the entire day in a steady retreat. The S&P 500 (-0.6%) posted its third consecutive decline, while the small-cap Russell 2000 (-0.9%) slipped behind the broader market during afternoon action.

Equity indices were pressured from the start following some overnight developments that weighed on sentiment. The market tried to overcome the early weakness, but could not stage a sustained rebound, ... More
More Market News