Heavy pollution causing Chinese 'airpocalypse'
The government pledges to cut vehicle emissions, but critics point to the nation's questionable fuel standards.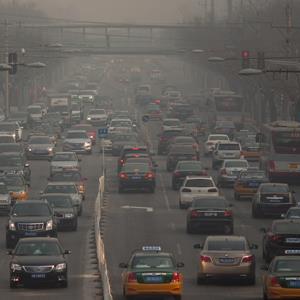 China may have the world's fastest-growing auto industry, but with that success come some incredible pollution problems.

Air pollution levels were literally off the charts in Beijing over the weekend, reportedly reducing visibility to about 100 yards in some areas and prompting some flight cancellations. Residents in several Chinese cities have been advised to stay indoors. At least four deaths have been blamed on what Chinese media calls the "smoggy weather" -- including two high school students who were hit by a train due to low visibility.

The Australian says work at dozens of construction sites and a car factory in the Chinese capital have been halted in an effort to ease the air pollution.
The air quality is so bad -- some foreigners in China have been referring to it on social media as the "Airpocalypse" -- that government media have been joining Internet users in questioning China's rapid path to economic growth.
"China's pollution is accumulating," said a recent editorial in the country's Global Times. "The general reason is that China's process of industrialization has not finished and infrastructure construction is rising. China is still the biggest construction site in the world. At the same time, it is a veritable global factory. Against this background, it is impossible for China to be as clean as the West."

"However," the editorial continues, "recent atmospheric pollution has really sounded a warning to us: if we continue this way of development instead of adjusting it, the long-term damage will be serious."
The official Xinhua News Agency says China has pledged to "vigorously" curb vehicle exhaust emissions. A spokesman for the nation's Ministry of Environmental Protection told Xinhua the government will "take effective measures to limit the total amount of nitrogen oxide emitted by vehicles and intensify supervision over the production, use and elimination of motor vehicles."
A major part of China's air pollution problem is the quality of the fuel used in its cars, trucks and other vehicles.

The Los Angeles Times reports fuel standards in the People's Republic allow for three times the amount of noxious sulfur as in the United States, and five times as much compared to European standards.
But China's state-run oil companies have the ultimate say over fuel quality standards. "Without pressure, it will be difficult to get the oil companies to change," Ma Jun, head of the Institute of Public and Environmental Affairs in Beijing, tells the Times. "They're a very powerful monopoly."
The global management consulting firm McKinsey says China's expanding economy and rising rates of personal income should fuel passenger car sales there -- which are expected to grow 8%, to 22 million annually, by the end of 2020.
U.S. automakers are also making inroads in China. General Motors (GM), the largest foreign car-maker in China, reported its sales there increased 9.7% in November.

"Carmakers, at least the global ones, are definitely prepared for any technical upgrades the [Chinese] government might demand," Michael Dunne, founder of the auto marketing firm Dunne & Company, told the Times. "The key problem has always been, and remains, fuel quality. Even the most advanced engines cannot produce clean exhaust when the fuel quality is second-rate."
More on Money Now
DATA PROVIDERS
Copyright © 2014 Microsoft. All rights reserved.
Fundamental company data and historical chart data provided by Morningstar Inc. Real-time index quotes and delayed quotes supplied by Morningstar Inc. Quotes delayed by up to 15 minutes, except where indicated otherwise. Fund summary, fund performance and dividend data provided by Morningstar Inc. Analyst recommendations provided by Zacks Investment Research. StockScouter data provided by Verus Analytics. IPO data provided by Hoover's Inc. Index membership data provided by Morningstar Inc.
MARKET UPDATE
[BRIEFING.COM] Nov crude oil is trading higher this morning as the U.S. and Arab allies have begun missile strikes in Syria on the Islamic State. The energy component dipped to a session low of $90.77 moments after equity markets opened but quickly recovered back into positive territory. It popped to a session high of $91.90 in recent action and is now up 0.9% at $91.64.

Oct natural gas is chopping around in a tight range between $3.88 and $3.90 in the black. It is currently up 1.2% at ... More
More Market News