Where Obamacare is spurring a hiring binge
California and other states are signing up thousands of call-center workers to explain the complicated law to consumers.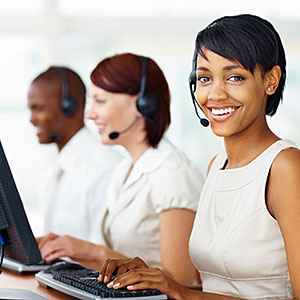 While critics keep pounding the Affordable Care Act, saying it will stifle business and lead to job cuts, in at least one area it's spurring job creation. 

Some states are going on hiring binges, paying workers who can explain the law to consumers. California, for one, is hiring hundreds of workers at three call centers to answer questions when enrollment begins in October, the Los Angeles Times reports.
Granted, this isn't likely to be welcome news for Obamacare's opponents, many of whom are already concerned about government spending and the potential for higher taxes. 
Across the country, 7,000 to 9,000 jobs will be created at 14 call centers, according to the Lawrence Journal-World in Kansas. One of those call centers will be in Lawrence, although, ironically, Kansas is one of the states leaning toward not participating in the law's Medicaid expansion. 
For job seekers, the new positions are likely to be welcome opportunities. California is also hiring 20,000 "enrollers" across the state who will earn $58 for each person they sign up for health care coverage, the Times notes. 
At one screening exam in Fresno, where the jobless rate is 13.4%, hundreds of people showed up to take the test, which evaluates applicants' basic math and reading skills, as well as their ability to get across the complicated law, the piece says. About 3,000 people have passed the test. 
"It's a heavy lift for any organization to hire literally almost 1,000 people in a year's time," Dana Howard, a spokesman for the state's health insurance marketplace, Covered California, told the LA Times. "But we have the staff on board to navigate this, and so far it's going quite smoothly."
Call-center employees will have their work cut out for them. A huge chunk of Americans -- 42% --  aren't aware of the law's status, while nearly 20% believe it has been either repealed by Congress or overturned by the Supreme Court. 
Meanwhile, some companies -- including Regal Entertainment Group (RGC), the country's biggest movie theater chain -- are reducing employees' hours to avoid paying health care benefits.
Follow Aimee Picchi on Twitter at @aimeepicchi. 
DATA PROVIDERS
Copyright © 2014 Microsoft. All rights reserved.
Fundamental company data and historical chart data provided by Morningstar Inc. Real-time index quotes and delayed quotes supplied by Morningstar Inc. Quotes delayed by up to 15 minutes, except where indicated otherwise. Fund summary, fund performance and dividend data provided by Morningstar Inc. Analyst recommendations provided by Zacks Investment Research. StockScouter data provided by Verus Analytics. IPO data provided by Hoover's Inc. Index membership data provided by Morningstar Inc.
MARKET UPDATE
[BRIEFING.COM] S&P futures vs fair value: -5.50. Nasdaq futures vs fair value: -13.00. Nasdaq at... NYSE Adv/Dec 0/0... Nasdaq Adv/Dec 0/0.
More Market News