Grover Norquist bends on tax issue
The anti-tax advocate is giving Republicans a pass on legislation that would end up raising taxes for those making more than $1 million a year.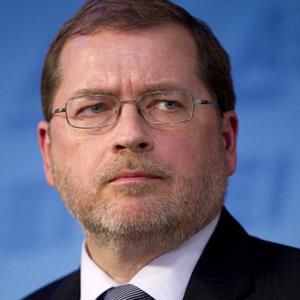 Anti-tax stalwart Grover Norquist is squirming a bit, and you can't blame him. After two decades of hammering away on taxes and getting Republicans to fall in line, he's facing inevitable tax increases of some sort.
And so Norquist has had somewhat of a change of heart, saying Wednesday that he's OK with House Speaker John Boehner's "Plan B" legislation that would raise taxes on people earning at least $1 million a year.
"ATR will not consider a vote for this measure a violation of the Taxpayer Protection Pledge," Norquist's group, Americans for Tax Reform, wrote on its
website
Wednesday.
Norquist says that Republicans voting for the legislation that would raise taxes on millionaires are actually sticking with the pledge they made to oppose all efforts to increase the marginal income tax rate. The Taxpayer Protection Pledge is Norquist's signature effort; he has persuaded nearly all Congressional Republicans to make it.
The issue here is largely semantics. Boehner's Plan B proposal would continue the current tax cuts for all but the wealthiest Americans. Norquist is happy with continued tax breaks. But he doesn't say anything about the other side of the coin here, which is that people making more than $1 million could see their tax rates increase.
More from Money Now
DATA PROVIDERS
Copyright © 2013 Microsoft. All rights reserved.
Fundamental company data and historical chart data provided by Morningstar Inc. Real-time index quotes and delayed quotes supplied by Morningstar Inc. Quotes delayed by up to 15 minutes, except where indicated otherwise. Fund summary, fund performance and dividend data provided by Morningstar Inc. Analyst recommendations provided by Zacks Investment Research. StockScouter data provided by Verus Analytics. IPO data provided by Hoover's Inc. Index membership data provided by Morningstar Inc.
RECENT POSTS
8 questions to ask before Mom and Dad move in
Sharing your home with older family members isn't for everyone, but it may cut costs and make caregiving simpler for you. Here's help with eight questions about the money side of the decision.
MARKET UPDATE
[BRIEFING.COM] There wasn't a lot of excitement in the stock market today and there is nothing wrong with that. After rallying in broad-based fashion on Friday, the major indices stood their ground (for the most part) amid a lack of conviction from buyers and sellers alike.

Today wasn't a case so much of the stock market going up as it was a case of some influential stocks going up to keep the major indices on a winning path. In fact, decliners were just about even with ... More
More Market News
TOP STOCKS
SodaStream may be a buy
If the stock continues to move lower and tests long-term support, there is reason to jump in.