Billionaire investors trade barbs on live TV
Carl Icahn and Bill Ackman let loose with personal insults, salty language and the built-up tension that comes from years of animosity.
Carl Icahn and Bill Ackman really hate each other.
The two billionaires duked it out in an amazing show of verbal hostility on live television Friday, letting loose with a torrent of insults and obscenities. It was an unprecedented spectacle, one that the financial world won't forget anytime soon.
And the stock at the center of it all,
Herbalife
(
HLF
), went nuts during the conversation.
The two investors have been fighting for years, going back to 2003, when Ackman's former company was under investigation by the Securities and Exchange Commission. Icahn bought Ackman's shares in a real estate company called Hallwood Realty, but the issue turned into a nasty legal battle later.
There's so much animosity between the two, in fact, that New York restaurants know not to seat them near each other,
according to
The New York Times.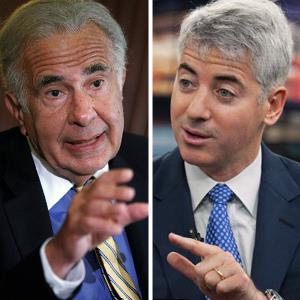 The two are feuding again over Herbalife, a stock that Ackman has made a well-publicized bet against. Ackman has called the company a pyramid scheme. News reports later said that Icahn had bought a position in Herbalife -- something Icahn has not publicly confirmed.
The tension between the two has been building for days. In an interview with Bloomberg television, Icahn said he didn't respect Ackman and challenged his "holier than thou" attitude. Ackman went on CNBC to defend himself, and Icahn joined in as well.
Here are the best zingers from the conversation Friday, which was hosted by CNBC's Scott Wapner:
Icahn:
"I've really sorta had it with this guy Ackman. . . . He's like the crybaby of the school yard."
Icahn:
"He's like the quintessential example of on Wall Street, if you want a friend, get a dog."
Ackman:
"I was concerned about Carl Icahn because Carl Icahn unfortunately does not have a good reputation of being a handshake guy."
Ackman:
"This is not an honest guy, this is not a guy who keeps his word, and this is a guy who takes advantage of little people."
Icahn (to Wapner):
"I'm not going to talk about my Herbalife position because you want to bully me. I'm going to talk about what I want to talk about. . . . I'm never going on a show with you again, that's for damn sure."
Icahn (about Ackman):
"I couldn't figure out if he was the most sanctimonious guy I'd ever met in my life or the most arrogant."
Icahn:
"I wouldn't have an investment with Ackman if you paid me to do it. . . . I made a huge mistake getting involved with him. As far as I'm concerned, the guy is a major loser."
Ackman:
Icahn "either has a bad memory or he has trouble with the truth. . . . He is not used to someone standing up to him."
Icahn:
"I wouldn't do business with you if you were the last man on Earth"
Icahn also used plenty of salty language on the call, to the point that Wapner reminded him that he was on live television. Icahn responded that when CNBC producers asked him to go on they air, they told him he could say whatever he wanted. And he certainly did.
It was jaw-dropping television, and Twitter lit up with people shocked by the conversation. "Best television since Frazier-Ali fights," one
said
. CNBC asked viewers
in a poll
who won, and by the early afternoon Ackman was the clear favorite.
More on moneyNOW
DATA PROVIDERS
Copyright © 2014 Microsoft. All rights reserved.
Fundamental company data and historical chart data provided by Morningstar Inc. Real-time index quotes and delayed quotes supplied by Morningstar Inc. Quotes delayed by up to 15 minutes, except where indicated otherwise. Fund summary, fund performance and dividend data provided by Morningstar Inc. Analyst recommendations provided by Zacks Investment Research. StockScouter data provided by Verus Analytics. IPO data provided by Hoover's Inc. Index membership data provided by Morningstar Inc.
MARKET UPDATE
[BRIEFING.COM] The stock market began the new trading week on the defensive note with small-cap stocks pacing the retreat. The Russell 2000 (-1.4%) and Nasdaq Composite (-1.1%) displayed relative weakness, while the S&P 500 lost 0.8% with all ten sectors ending in the red.

Global equities began showing some cracks overnight after China's Finance Minister Lou Jiwei poured cold water on hopes for new stimulus measures. Specifically, Mr. Lou said the government has no plans to change ... More
More Market News