Oil-boosting smoothie bar charges liberals extra
The owner, a drilling supporter in Utah, vows to donate proceeds to conservative causes.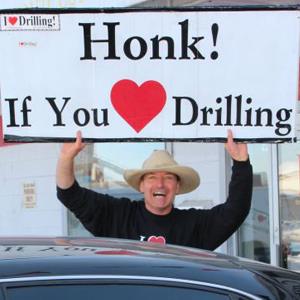 How does a West Coast health-food staple turn into an oil-supporting, liberal-taxing pillar of conservative ideology? By coming to the city of Vernal in eastern Utah.
George Burnett used to while away the hours making custom seat covers and standing on the side of the road in a cowboy hat holding a "Honk If You Love Drilling" sign. That all changed after President Barack Obama was re-elected in November and Burnett decided to relax a bit and open up a smoothie stand.
What's the name of this good-vibes, berry-and-booster-po​wder palace? The I Love Drilling Smoothie & Juice Bar. How did Burnett mark his opening day on Nov. 7, just a day after Election Day? By instituting a $1 "Liberal Tax" on his smoothies and vowing to give the extra money to conservative causes like the Heritage Foundation, according to KSL News.
Though the "I Love Drilling" sign might turn off some of Burnett's intended customers, America has shown time and again that it can't resist a smoothie. The success of Jamba Juice led fast-food joints like McDonald's (MCD) and Burger King (BKW) to add smoothies to their meat-heavy menus, while Starbucks (SBUX) -- perhaps the birthplace of the latte-sipping liberal stereotype -- also added smoothies in recent years to bolster its ranks.
The problem is, how do you identify a liberal? Apple products? Too capitalist. Subaru wagons? Too upper middle class. Lingering marijuana stench? Too libertarian. The Howard Zinn or Noam Chomsky book under their arm? They could just be trolling or gathering intelligence on the enemy.
No, the best route is the most direct. Burnett told The Huffington Post that when a customer orders, he points points to a menu that marks smoothie and juices prices as $4.95 for conservatives, and $5.95 for liberals, and asks customers, "What pricing are we using today?"
According to Burnett, three customers have already self-identified as liberal and gleefully paid the tax. That's an impressive turnout for Vernal, which sits in Uintah County in Eastern Utah and has little more than 470 registered Democrats and eight registered Green Party voters. That's less than 9% of the voting body overall, compared the the county's nearly 5,300 conservative Republicans, Libertarians and Constitution Party members that comprise nearly 91% of the electorate. In the November elections, Mitt Romney took nearly 90% of Uintah County's votes.
That doesn't leave Burnett with much of a liberal tax base, but maybe if he starts running 1-for-the-price-of-2​ specials for his county's 19 Jill Stein voters he can one day hand the Heritage Foundation a $20 bill without asking for change back.
More on Money Now
DATA PROVIDERS
Copyright © 2014 Microsoft. All rights reserved.
Fundamental company data and historical chart data provided by Morningstar Inc. Real-time index quotes and delayed quotes supplied by Morningstar Inc. Quotes delayed by up to 15 minutes, except where indicated otherwise. Fund summary, fund performance and dividend data provided by Morningstar Inc. Analyst recommendations provided by Zacks Investment Research. StockScouter data provided by Verus Analytics. IPO data provided by Hoover's Inc. Index membership data provided by Morningstar Inc.
MARKET UPDATE
[BRIEFING.COM] The stock market finished an upbeat week on a mixed note. The S&P 500 shed less than a point, ending the week higher by 1.3%, while the Dow Jones Industrial Average (+0.1%) cemented a 1.7% advance for the week. High-beta names underperformed, which weighed on the Nasdaq Composite (-0.3%) and the Russell 2000 (-1.3%).

Equity indices displayed strength in the early going with the S&P 500 tagging the 2,019 level during the opening 30 minutes of the action. However, ... More
More Market News