Nasty US flu season gives Clorox big profits
Sales of disinfectant wipes and bleach are on the rise while Americans battle norovirus and other germs.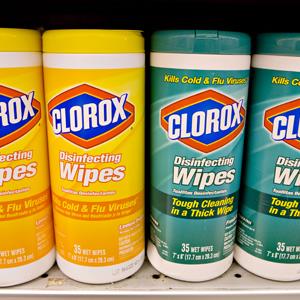 Just keep sniffling and hacking, America. Some Clorox executive's going to name his new yacht "Influenza" because of you.
Clorox (CLX) sales were up 9% to $1.33 billion last quarter, thanks to a particularly nasty flu season that's increased demand for its disinfecting wipes and the concentrated version of its namesake bleach. Those gains should trickle through the rest of the year, too, as Clorox increased its outlook from an increase between 2% and 4% to a bigger boost somewhere between 3% and 5%.
Sales of Clorox cleaning products alone jumped 15% to $425 million and increased income 28%. Household sales surged 7% and profits rose 65% as both prices and demand increased and a germ-averse public stocked up.
Between strains of flu not covered by this year's flu shot and an absolutely grotesque norovirus import from Australia that's been putting gastrointestinal systems to the test, it's been a tough few weeks fraught with peril and hand washing for the average American.

Germ-slicked menus and wait staff who aren't given sick days have made restaurants dicey propositions for folks who've seen "Contagion" one too many times. Meanwhile, the Centers for Disease Control and Prevention estimates that this year's flu outbreak will cost employers upwards of $10 billion for treatment and hospitalization while medical centers are seeing their supplies dwindle to nearly nil.
However, it's not just America's unfortunate bout of illness that has Clorox's numbers looking so well. Sales of its Burt's Bees organic skin care products and Brita water filters helped increase sales within its lifestyle segment by 8%. Also, price hikes around the globe helped increase revenue 3%.
All together, Clorox earned $123 million, or 93 cents per share, in its second quarter. That's not shabby when compared with a profit of $105 million, or 79 cents per share, a year earlier. Even with U.S. flu season winding down, those multilayered numbers may stay healthy until the worst is over.
More on moneyNOW
DATA PROVIDERS
Copyright © 2014 Microsoft. All rights reserved.
Fundamental company data and historical chart data provided by Morningstar Inc. Real-time index quotes and delayed quotes supplied by Morningstar Inc. Quotes delayed by up to 15 minutes, except where indicated otherwise. Fund summary, fund performance and dividend data provided by Morningstar Inc. Analyst recommendations provided by Zacks Investment Research. StockScouter data provided by Verus Analytics. IPO data provided by Hoover's Inc. Index membership data provided by Morningstar Inc.
MARKET UPDATE
[BRIEFING.COM] S&P futures vs fair value: -0.40. Nasdaq futures vs fair value: -11.00. The stock market is on track to begin the final trading day of the holiday-shortened week on a subdued note. The S&P 500 futures trade right in line with fair value, while Nasdaq futures lag (-11 versus fair value) as Google (GOOG 553.64, -10.26) weighs after reporting below-consensus quarterly results.

Google notwithstanding, participants have received a full slate of quarterly ... More
More Market News
TOP STOCKS
Alibaba flexes muscles before IPO
The Chinese e-commerce website's transaction volume dwarfs that of eBay and Amazon.com, but the company's size could be its worst enemy.