Philly restaurant Chink's changes offensive name
Owner Joe Groh felt the time had come, but some customers are accusing him of caving to political correctness.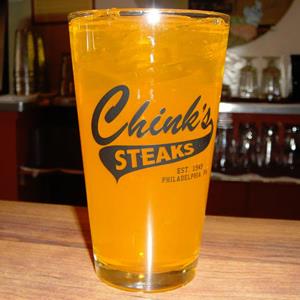 For more than six decades, residents of Philadelphia's Wyomissing neighborhood only associated Chink's Steaks with one thing: the artery-clogging sandwiches made famous by the City of Brotherly Love. 
Then in 2004, an Asian-American student complained to owner Joe Groh that the name was offensive. Nine years later, Groh decided the time had come to change it.

As The Philadelphia Inquirer and other local media organizations reported, Chink's is changing its name to Joe's Steak and Soda Shop. Some of the restaurant's customers are not pleased with the change, accusing Groh of caving to political correctness. About 10,000 of them signed a petition urging Groh to keep the Chink's name. 

For what its worth, "Chink" was the off-color nickname bestowed upon the shop's original owner, Samuel Sherman, because of his "almond eyes." Sherman wasn't Asian. Groh bought the shop from Sherman's widow in 1999.
"It was a tough decision," Groh told MSN in an interview. "I mulled that over for a few years."
Customers who are upset about the name change will eventually realize that everything else about the shop, such as the staff and the sandwiches, is still the same, he said.

Groh's move earned him praise from Pennsylvania state Sen. Mark Cohen, who told the Inquirer, "I understand people who want the past to govern the present, but there comes a point when you have to be responsive to changes that exist in the city."

Even big companies, though, have to be sensitive to cultural considerations. Lego was forced to withdraw a Star Wars toy set depicting Jabba the Hut's palace after Turkish Muslims raised objections because it looked like a mosque, according to the U.K.'s Mail.

--Follow Jonathan Berr on Twitter at @jdberr.

More on moneyNOW
DATA PROVIDERS
Copyright © 2014 Microsoft. All rights reserved.
Fundamental company data and historical chart data provided by Morningstar Inc. Real-time index quotes and delayed quotes supplied by Morningstar Inc. Quotes delayed by up to 15 minutes, except where indicated otherwise. Fund summary, fund performance and dividend data provided by Morningstar Inc. Analyst recommendations provided by Zacks Investment Research. StockScouter data provided by Verus Analytics. IPO data provided by Hoover's Inc. Index membership data provided by Morningstar Inc.
MARKET UPDATE
[BRIEFING.COM] The S&P 500 trades higher by 0.4% with all ten sectors sporting gains. The benchmark index has extended this week's gain to 1.6%, while the Dow Jones Industrial Average (+0.4%) is now higher by 2.0% since last Friday.

The Leading Indicators report for August was up 0.2%, while the Briefing.com consensus expected a reading of 0.4%. That followed a revised increase of 1.1% for July (from 0.9%). Nasdaq +13.77 at 4607.2... NYSE Adv/Dec 1867/883... Nasdaq Adv/Dec ... More
More Market News