H&R Block and TurboTax brawl for customers
The tax preparers are taking shots at each other in a big-money struggle for market share.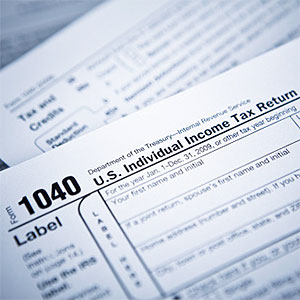 Remember the fiscal cliff and all those changes to the tax code? If you think they're driving the average taxpayer nuts, just look what they're doing to
H&R Block
(
HRB
) and
Intuit
's (
INTU
) TurboTax.
TurboTax fired the first shot earlier this tax season by suggesting that not only were tax preparers at H&R Block and other shops part-timers who aren't dedicated to their customers, but moonlighting plumbers with no background in financial planning whatsoever.

H&R Block turned around and sued Intuit, alleging the ads infringed its trademarks and falsely asserted that its tax preparers aren't real experts. Its motion to withdraw the commercials was denied, so now the battle's gone online.
H&R Block chief executive Bill Cobb fired off a rebuttal letter about as dry as you might expect a piece of corporate correspondence to be, but its marketing team responded by putting its tax preparers in front of the camera and listing their credentials. Cobb also mentioned, in a memo obtained by PR Daily, that more commercials explicitly targeting TurboTax are on the way.
As AdAge discovered, the two companies' commercials are just the latest escalation of their pitched battle for the hearts and minds of America's mathematically challenged taxpayers. H&R Block's ad spending increased 14.7% to $278.7 million in its 2012 compared to the year before. Intuit, meanwhile, decreased advertising expenses from $177 million in fiscal 2011 to $151 million in 2012 fiscal year. However, it poured more money into marketing TurboTax while trimming spending in other areas.
With even the Internal Revenue Service jumping on social media this tax season -- launching a Tumblr account and beefing up its Facebook page, multiple YouTube channels and Twitter feed -- tax prep companies are feeling the pressure to step up and avoid getting shoved out of the way.

Going after some of the very plumbers and store sales clerks that use your service may not be the best way to gain new customers, but the small pool of folks who need their taxes done by these companies isn't getting much larger. Gaining new business means taking some away from your competitors, and that tends to get ugly -- even by tax season standards.
More on moneyNOW

"Double tapped exemption" resulting in tax balance of $4000? Kind of hard to do when this year's exemption amount for most taxpayers is a $3,800 deduction to income. Which is higher than past years. If you are in the 15% bracket it's worth $570 - 25% bracket will yield $950. Something else is going on here. Let it be known, don't trust anyone who follows a statement with "no catches" 

I took my taxes to H&R.....once. They double tapped my exemption and 9 months later the IRS advised me I owed them $4000.00 PLUS interest!!!!!!!!!!!!​!!!!!!!!!!!!!!!!!!
H&R advised me that since I didn't pay their $39 "Oops" protection fee, They weren't liable.
I've left nothing out of this post, no catches, nothing, pure and simple.
Idiots and morons.

Maddoff should have been hung by his neck in public. Why are tax payers paying for his luxuries in prison do you actually think he lives in a cell like other inmates?
The banks are ten times worse they created the building industry crisis by allowing bad loans they knew could not be paid back, The ruined the construction, logistics, manufacturing, administrative, and most of their labor market my allowing home builders to over build and mortgage brokers to give bad loans and pocket huge commissions.
The bank ceo's, the lobbyists, and all crooked politicians should be hung along Maddoff they ruined the job market with their greed.
Are you sure you want to delete this comment?
DATA PROVIDERS
Copyright © 2014 Microsoft. All rights reserved.
Fundamental company data and historical chart data provided by Morningstar Inc. Real-time index quotes and delayed quotes supplied by Morningstar Inc. Quotes delayed by up to 15 minutes, except where indicated otherwise. Fund summary, fund performance and dividend data provided by Morningstar Inc. Analyst recommendations provided by Zacks Investment Research. StockScouter data provided by Verus Analytics. IPO data provided by Hoover's Inc. Index membership data provided by Morningstar Inc.
MARKET UPDATE
[BRIEFING.COM] The stock market finished an upbeat week on a mixed note. The S&P 500 shed less than a point, ending the week higher by 1.3%, while the Dow Jones Industrial Average (+0.1%) cemented a 1.7% advance for the week. High-beta names underperformed, which weighed on the Nasdaq Composite (-0.3%) and the Russell 2000 (-1.3%).

Equity indices displayed strength in the early going with the S&P 500 tagging the 2,019 level during the opening 30 minutes of the action. However, ... More
More Market News