Global warming could hurt pasta industry
Wheat is especially vulnerable to rising temperatures, leading to grim forecasts about the world's production over the next several decades.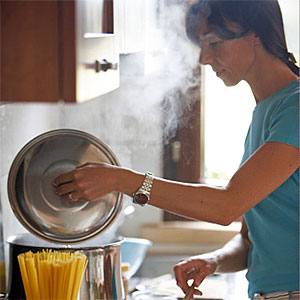 Could global warming spell the end of pasta? That's the case being made by Newsweek Magazine.
Here's how it would play out,
writes
Mark Hertsgaard: Pasta is mainly made from wheat, and scientists say the world's wheat crop will suffer tremendously with rising temperatures and droughts brought on by global warming.
Of the three grains that make up the foundation of human diets -- wheat, corn and rice -- wheat is the most sensitive to high temperatures, Hertsgaard writes. "Wheat is a cool-season crop. High temperatures are negative for its growth and quality, no doubt about it," Frank Manthey, a professor at North Dakota State University, tells the magazine.
Scientific forecasts say that countries in the world's wheat belts will start seeing hotter summers than anything on record. From now through 2050, wheat production could fall by 23% to 27%.
We got a glimpse of what could happen this year, when U.S. crops withered under the worst drought in 50 years. Corn production plunged, causing prices to skyrocket. Cattle herds were the smallest in 39 years and beef prices were at record levels. Fast-food chains raised prices, and experts said food could cost as much as 4% more next year.
The most sensitive type of wheat is durum, Hertsgaard writes. It doesn't thrive under too much or too little rain, and it needs cooler temperatures to grow.
Food companies are already taking notice. Barilla says it's creating new types of wheat that can handle extremely dry or wet weather. Farmers are testing new sustainable techniques.
It sounds a little shrill to decry the end of pasta, but there is some merit to this story. The world's weather patterns are changing, and that will impact crops. Pasta -- and bread, for that matter -- will see some changes ahead.
More from Money Now
DATA PROVIDERS
Copyright © 2014 Microsoft. All rights reserved.
Fundamental company data and historical chart data provided by Morningstar Inc. Real-time index quotes and delayed quotes supplied by Morningstar Inc. Quotes delayed by up to 15 minutes, except where indicated otherwise. Fund summary, fund performance and dividend data provided by Morningstar Inc. Analyst recommendations provided by Zacks Investment Research. StockScouter data provided by Verus Analytics. IPO data provided by Hoover's Inc. Index membership data provided by Morningstar Inc.
MARKET UPDATE
[BRIEFING.COM] S&P futures vs fair value: +7.40. Nasdaq futures vs fair value: +14.50. U.S. equity futures trade modestly higher amid upbeat action overseas. The S&P 500 futures hover seven points above fair value after climbing to highs after the start of the European session. That is somewhat fitting considering Europe, and specifically Scotland, will be in focus this evening with the referendum on independence taking place at this time. Referendum results are not expected until ... More
More Market News