GM stock soars as split from Uncle Sam begins
The automaker needs to break its ties to the Treasury and will spend $5.5 billion to buy back shares. The government is in no rush to sell its remaining stake, however.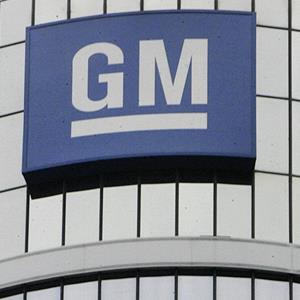 All those "Government Motors" jabs apparently got to General Motors (GM). The automaker is now willing to part with billions to speed Uncle Sam's departure from its day-to-day operations.
GM threw together a near-impromptu press conference Wednesday morning to announce its plan to spend $5.5 billion to buy back 200 million shares of its stock from the Treasury by the end of this year. For its part, the government plans to sell its remaining stake of 300 million shares on the open market over the next 12 to 15 months.
If GM seems somewhat less than appreciative of the $51 billion it received from taxpayers in 2008 for its post-bankruptcy restructuring in 2009, it's because some of those same taxpayers have been vocally resentful of the deal. GM chief financial officer Dan Ammann told those assembled at the press conference that GM's market research shows government ownership has stifled car and truck sales.
Pressure increased when Mitt Romney used the GM bailout as a plank in his presidential campaign, saying it never should have happened and vowing to sell off GM shares if elected. General Motors chief executive Dan Akerson was less diplomatic about the situation, calling the bailout a "political punching bag" that led pockets of car buyers and dealers to shun the automaker.
"This announcement is an important step in bringing closure to the successful auto industry rescue," Akerson said in a statement Wednesday. "It further removes the perception of government ownership of GM among customers, and it demonstrates confidence in GM's progress and our future."
The government, meanwhile, is in no rush to sell off shares. After the GM buyback, it will still have about $22 billion in bailout funds outstanding. GM's paying 8% more per share than the $25.49 they were worth when the market closed on Tuesday, but the Treasury would have to sell its remaining 19% stake in GM for between $52 and $72 a share just to break even.
The Treasury Department issued a statement saying it will sell the shares "in an orderly fashion" within the next 12 to 15 months, but there's a bit of a catch. The government inserted a "market conditions" clause in that statement to give it plenty of breathing room just in case GM's shares go sour. It could buy back those shares in 15 years, it could buy them back in 30: It's all a matter of how much of a return the government sees on its investment.
GM shares rose roughly 8% on Wednesday morning, nearly erasing the premium GM paid on them. Ammann says that the reduced number of shares on the market should boost the price even further, though the stock is still trading below its $33 initial public offering in 2010. US News columnist Rick Newman is predicting at least a $5 billion loss for taxpayers from the deal, but that's still a speculative and clinical take on the broad-reaching bailout.
According to the Center For Automotive research, it's estimated that federal funds saved 1.5 million jobs at both General Motors and Chrysler. GM posted record profits of $7.6 billion in 2011, got the leverage it needed in talks with the United Auto Workers and was able to start hiring again this year, albeit at considerably lower wages than older workers received. Overall global sales volume rose 7.6% to 9 million in 2011. That moved GM back to the top spot in world auto sales that it occupied for 77 years before falling behind Toyota (TM) in 2008.
Even GM's product itself is improving. Weak and redundant brands are gone. New post-bailout cars like the Chevrolet Cruze and Sonic have helped boost GM's car sales 8% within the last year, according to MotorIntelligence. Its Chevrolet Silverado and GMC Sierra trucks hadn't been overhauled since 2007 and were losing market share as bailout-averse truck buyers moved to Ford (F), Italian-owned Dodge and even Toyota, Honda (HMC) and Nissan (NSANY). The trucks are now slated for a revamp in 2013, despite the fact that the Silverado is still the second-best selling car in the country.
General Motors looks at its post-bailout incarnation and sees a healthy company that could be a whole lot healthier if it emerged from the Treasury's shadow. The government, meanwhile, that same healthy company with all its jobs and sales, but also sees more than $20 billion in debt. The latter, combined with pressure from those same "Government Motors"-hating taxpayers -- is going to make it extremely difficult to let go of the former.
More from Money Now
DATA PROVIDERS
Copyright © 2014 Microsoft. All rights reserved.
Fundamental company data and historical chart data provided by Morningstar Inc. Real-time index quotes and delayed quotes supplied by Morningstar Inc. Quotes delayed by up to 15 minutes, except where indicated otherwise. Fund summary, fund performance and dividend data provided by Morningstar Inc. Analyst recommendations provided by Zacks Investment Research. StockScouter data provided by Verus Analytics. IPO data provided by Hoover's Inc. Index membership data provided by Morningstar Inc.
MARKET UPDATE
[BRIEFING.COM] The stock market began the new trading week on the defensive note with small-cap stocks pacing the retreat. The Russell 2000 (-1.4%) and Nasdaq Composite (-1.1%) displayed relative weakness, while the S&P 500 lost 0.8% with all ten sectors ending in the red.

Global equities began showing some cracks overnight after China's Finance Minister Lou Jiwei poured cold water on hopes for new stimulus measures. Specifically, Mr. Lou said the government has no plans to change ... More
More Market News