Bacon coffee? Barista championship gets creative
Brewers let their creativity percolate this weekend, competing on signature beverages and technical skills.
Making a complicated drink in the time it takes a pour a cup of coffee. Handling increasingly intricate orders from customers who want their drink to reflect their personality. Dealing with those same consumers before they've had their morning caffeine fix.
Dismiss Starbucks (SBUX), Peet's, Tully's and Caribou baristas as "coffee pourers" if it makes you feel better, but all of the above makes their job one of the trickiest in the food service industry and separates the great ones from those just getting by.
While the worst baristas are usually distinguished by their sloppy pours and
customer-excoriating​

blogs
, the foam of the barista ranks rises to the top this weekend at the United States Barista Championships in Boston. The competition started Thursday, wraps up on Sunday and features baristas from across the country spicing up their own signature beverages with bacon, liquified cheesecake or any other additions they think will tickle a tough coffee drinker's palate. 
Fifty of the county's best baristas get 15 minutes to prepare and serve four espressos, four cappuccinos and their four signature beverages to a panel of judges. Competitors are judged on taste, procedure, consistency, cleanliness and technical details including whether they are wasting coffee. Aesthetics count, too, which makes ambient music, dress and the story behind a signature beverage nearly as important as what's in the cup.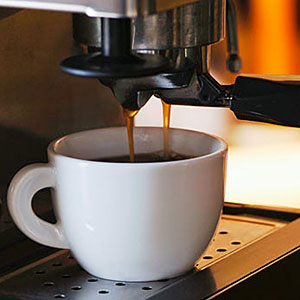 Sound a bit intense? Whatever, pal. According to the event's organizer, the Specialty Coffee Association of America, that latte you start the day with or mocha you splurge on when you think no one is looking account for 37% percent of the coffee volume sold in the United States and half of the revenue of a coffee industry that brings in $30 billion a year. It's so valuable, in fact, that German company Joh A Benckiser just spent nearly $1.3 billion buying up Caribou and Peet's to build a stronger Starbucks competitor than decidedly downmarket Dunkin' Donuts (DNKN).
The Barista Championships also give cafe veterans from big cities and coffee stand owners in far-flung gas station parking lots equal opportunity to show off their skills and earn an all-expenses-paid trip to the World Barista Championship next month in Melbourne, Australia. Those fortunate enough to get their morning cup from one of the winners -- including last year's winner, Katie Cargullo of New York City's Counter Culture Coffee -- already know the benefits of an exemplary barista.
Coffee stand cynics can either seek out a better barista to change their minds or, better yet, make that double caramel macchiato themselves. Just allow an extra hour for your morning routine and a bit of a learning curve on those first 50 cups or so.
DATA PROVIDERS
Copyright © 2014 Microsoft. All rights reserved.
Fundamental company data and historical chart data provided by Morningstar Inc. Real-time index quotes and delayed quotes supplied by Morningstar Inc. Quotes delayed by up to 15 minutes, except where indicated otherwise. Fund summary, fund performance and dividend data provided by Morningstar Inc. Analyst recommendations provided by Zacks Investment Research. StockScouter data provided by Verus Analytics. IPO data provided by Hoover's Inc. Index membership data provided by Morningstar Inc.
MARKET UPDATE
[BRIEFING.COM] The major averages ended the midweek session with slim gains after showing some intraday volatility in reaction to the release of the latest policy directive from the Federal Open Market Committee. The S&P 500 added 0.1%, while the relative strength among small caps sent the Russell 2000 higher by 0.3%.

Equities spent the first half of the session near their flat lines as participants stuck to the sidelines ahead of the FOMC statement, which conveyed no changes to the ... More
More Market News