Ailing Blockbuster to close 300 stores
The embattled video-rental chain will lay off 3,000 employees as well, raising more questions about its future. It will have just 500 US locations left.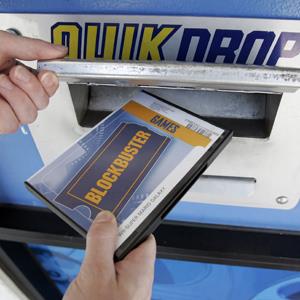 The video-rental chain Blockbuster is laying off about 3,000 workers as owner Dish Networks (DISH) shutters about  300 stores.

The closings raise questions about the future of Blockbuster, which the Denver Post notes has been pushed "to the brink of death." After the closings, Blockbuster will operate just 500 locations in the U.S.
The incredible shrinking Blockbuster business may not surprise people who have visited a store recently. When the local Blockbuster store in my city closed a few years ago, it wasn't exactly a shock: The store was never busy, and it seemed to rely as much on sales of candy as actual video rentals. 
That's a far cry from less than a decade ago, when Viacom (VIA) split off the video-rental chain in 2004. At the time, Blockbuster operated some 8,900 stores worldwide, although cracks were already showing in its operations. Viacom set the split after failing to find a buyer as Netflix (NFLX) ate into Blockbuster's customer base. 
The latest round of closures comes after Dish shut down about 500 Blockbuster stores last year.
With the rash of store closings, it's fair to ask whether Dish executives regret buying the video-rental chain out of bankruptcy in 2011 for $320 million.
If they do, they're not saying so publicly. Dish "continues to see value in the Blockbuster brand," a spokesman for the satellite-television​ operator told the Denver Post. The 300 stores that will be closed are those that are unprofitable or those near the end of their leases. The locations of the closures haven't been announced, Dish told the newspaper.
One idea that Dish continues to consider is turning Blockbuster stores into smartphone and wireless service outlets. "We're still evaluating that," chief executive Joe Clayton said at the Consumer Electronics Show earlier this month, according to the Post. "It's still in exploratory phase."
Soon after Dish bought the chain, it touted the company's "iconic brand" and a new suite of services, including Web streaming. But Dish founder Charlie Ergen gave up on the plan last year, amid regulatory issues. 
Ergen shed some insight into Dish's decision to close Blockbuster stores, hinting to Bloomberg News about the poor economics of the video-rental business. "When your lease runs out on the stores, you can't re-up because you can't make enough money from just selling DVDs," he said.
More on moneyNOW
DATA PROVIDERS
Copyright © 2014 Microsoft. All rights reserved.
Fundamental company data and historical chart data provided by Morningstar Inc. Real-time index quotes and delayed quotes supplied by Morningstar Inc. Quotes delayed by up to 15 minutes, except where indicated otherwise. Fund summary, fund performance and dividend data provided by Morningstar Inc. Analyst recommendations provided by Zacks Investment Research. StockScouter data provided by Verus Analytics. IPO data provided by Hoover's Inc. Index membership data provided by Morningstar Inc.
MARKET UPDATE
[BRIEFING.COM] S&P futures vs fair value: -5.80. Nasdaq futures vs fair value: -12.80. U.S. equity futures trade modestly lower amid cautious action overseas. The S&P 500 futures hover six points below fair value after climbing off their overnight lows reached during the Asian session. The night has been very quiet on the economic front with several central bank and government officials playing down expectations of additional stimulus. On that note, China's Finance Minister Lou Jiwei ... More
More Market News