Would a $9 minimum wage hurt McDonald's?
Some investors worry that Burger King and other fast-food chains might get dinged by Obama's proposal for a higher federal baseline wage.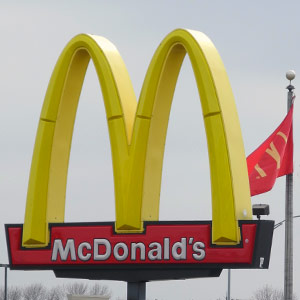 While millions of Americans working low-paying jobs would cheer if President Barack Obama's call for a $9 minimum hourly wage were successful, not everyone is happy about the idea. 

Shares of McDonald's (MCD) slid more than 1% Wednesday, the day after Obama called for boosting the minimum wage from its current $7.25 per hour. Yum Brands (YUM), which operates KFC and Taco Bell, and Burger King (BKW) also saw shares take a hit. 
A $9 minimum wage "definitely adds some kind of pressure" to the stock prices of fast-food chains, S&P Indices analyst Howard Silverblatt told The Huffington Post.
Paying fast-food workers higher wages "would definitely push profits down. It would mean less money for shareholders," he added. 
Already, Obama's proposal is receiving push-back from businesses, which predict a boost in the minimum wage would damper hiring.
If history is anything to go by, it's likely fast-food chains will lobby against the proposal. 
Restaurant chains and their franchisees spent almost $1 million in 2006 to lobby against minimum-wage increases in several states, according to Bloomberg News, citing Followthemoney.org. 
It's clear that minimum-wage workers would find the extra money useful. As Obama noted in his address, a family with two children that earns the minimum wage still lives in poverty. 
More fast-food employees now depend on food stamps to feed themselves, according to the Bloomberg report, which cited data from the University of Minnesota Population Center. While 15% of the overall U.S. population receives food stamps, almost 27% of fast-food employees require assistance to buy groceries.
So how much does McDonald's pay its employees? According to Glassdoor.com, which compiled reports from hundreds of McDonald's employees, a typical crew member, or an employee who flips the burgers, makes $7.66 an hour. 
That translates into gross income if less than $16,000 per year. Under Obama's proposal, a worker would make $18,720, or an annual raise of about $2,788. 
Multiply that by the dozens of workers at each fast-food restaurant, and McDonald's and others would most likely feel an impact. Then again, consumers might be the ones paying -- in the form of higher burger prices. 
Aimee Picchi owns shares of YUM but hasn't traded the stock in at least 12 months.
More on moneyNOW
DATA PROVIDERS
Copyright © 2014 Microsoft. All rights reserved.
Fundamental company data and historical chart data provided by Morningstar Inc. Real-time index quotes and delayed quotes supplied by Morningstar Inc. Quotes delayed by up to 15 minutes, except where indicated otherwise. Fund summary, fund performance and dividend data provided by Morningstar Inc. Analyst recommendations provided by Zacks Investment Research. StockScouter data provided by Verus Analytics. IPO data provided by Hoover's Inc. Index membership data provided by Morningstar Inc.
MARKET UPDATE
[BRIEFING.COM] The IMF expressed its concerns before the start of today's trading that "excessive risk taking may be building up" with valuations for just about every major asset class looking stretched.

As one can see from the standing of the major indices, that warning went in one of the market's ears and out the other. Actually, we're not even sure it went in one ear. The market started with a bullish bias and has maintained that bias throughout today's session.

The ... More
More Market News
TOP STOCKS
Meet Alibaba's new billionaires
Despite its size, the IPO will create just two new members of the 10-figure club from its executive ranks. A few others could net hundreds of millions.