Soda consumption fizzles to 26-year low
Americans are chugging less per capita, so the beverage industry is investing heavily in low-calorie, sports and energy drinks.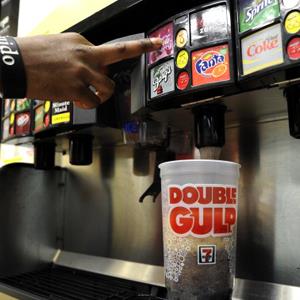 Roll over,
Coca-Cola
(
KO
), and tell
Dr Pepper Snapple
(
DPS
) the news. People are drinking less soda than they used to --
a lot less
.
Data from trade publication
Beverage Digest
show that per capita soda consumption fell to 701 eight-ounce servings in 2012, the lowest since 1987. Total soda consumption fell 1.2% last year, worse than the 1% drop in 2011 and the 0.5% decline in 2010. Industry production, at 9.17 billion 192-ounce cases, has fallen to 1996 levels.
Beverage industry leaders, including Coke and
PepsiCo
(
PEP
), have been trying for years to counter this trend, investing in faster-growing beverage markets such as sports and energy drinks. Meanwhile, the search continues for an all-natural, low-calorie sweetener that could add some pop to flat soda brands.
"The major companies are working to find breakthroughs in sweetener technology," said John Sicher, the publication's editor and publisher, in an interview. "If the companies can come up with low- or very lower-calorie soft drinks with a natural sweetener which tastes as good or nearly as good as regular soda ... that could turn the category around."
No one knows, of course, whether that will ever happen.
Critics of the beverage industry have argued that sugary beverages such as sodas contribute to the nation's soaring epidemic of obesity, the costs of which are pegged by the
Centers for Disease Control and Prevention
at $147 billion. New York City Mayor Mike Bloomberg's efforts to limit the size of sodas being sold in the Big Apple were blocked by a court challenge filed by beverage and restaurant industry groups, among others.
"Soda and other sugar drinks continue to be our single biggest source of calories," says Jeff Cronin of the Center for Science and the Public Interest in an email. "And liquid calories are more conducive to weight gain than solid calories. That said, we hope soda consumption, and consumption of other sugar drinks, continues to decline."
The statistic that Cronin refers to comes from the government's 2010 Dietary Guidelines for Americans. Other statistics cited by the American Beverage Association contradict these findings, such as a National Cancer Institute analysis of government data that found calories from sugar-sweetened beverages including soft drinks make up only 7% of the calories in the average American's diet.
Soda, of course, isn't good for consumers. Exactly how bad it is, however, is open for debate.
Jonathan Berr owns a small stake in Coca-Cola. Follow him on Twitter at @jdberr.
Wow, Amazing!!! When prices become too high for the consumer, sales drop. It would be nice to see this trend across the board as companies figure out that they have hit the limit on how much they can inflate their prices and expect people to continue to purchase them. Like I have been saying for years now, If people quit buying crap all the time prices will drop because companies have to start fighting for your dollars again.

Having worked for a bottling plant of a major player in the carbonated beverage industry (1982-1989), it was about 1986 that statistics came out that more soda was consumed then fresh water in the US.  You can imagine  how excited the executives were at the time.
But, at that time, if you talked about a "bottle law" (deposits on plastic bottles), the executives were strictly against that.   At the time, it could be estimated that annual consumption on two liter bottles only were approximately 20 bottles per year for every man, woman and child.  At today's population of 320 million, that would equate to 6.4 Billion 2 Liter bottles.....hopefull​y everyone recycles.
Are you sure you want to delete this comment?
DATA PROVIDERS
Copyright © 2014 Microsoft. All rights reserved.
Fundamental company data and historical chart data provided by Morningstar Inc. Real-time index quotes and delayed quotes supplied by Morningstar Inc. Quotes delayed by up to 15 minutes, except where indicated otherwise. Fund summary, fund performance and dividend data provided by Morningstar Inc. Analyst recommendations provided by Zacks Investment Research. StockScouter data provided by Verus Analytics. IPO data provided by Hoover's Inc. Index membership data provided by Morningstar Inc.
MARKET UPDATE
[BRIEFING.COM] The stock market finished the Thursday session on a higher note with the S&P 500 climbing 0.5%. The benchmark index registered an early high within the first 90 minutes and inched to a new session best during the final hour of the action.

Equities rallied out of the gate with the financial sector (+1.1%) providing noteworthy support for the second day in a row. The growth-oriented sector extended its September gain to 1.9% versus a more modest uptick of 0.4% for the ... More
More Market News