A cool $161,000 makes us happy
A new global survey finds that people do need quite a bit of cash to feel content.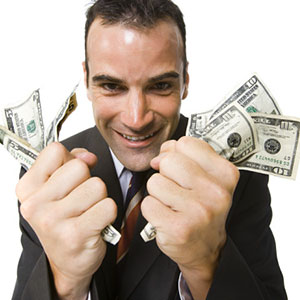 What does it take to make Earthlings happy? An average salary of $161,000 is a good place to start.
A new study by Skandia International asked people in 13 countries about what level of income they would need to feel "really happy." The responses varied by country, but averaged out at about 15 times the global individual income average of $10,700. Yeah, I'd say $161,000 would be enough to put a smile on most faces.
Skandia skipped the U.S. in its survey, so we don't know what level of money brings happiness here. But of the countries surveyed, those hard-working, stoic Germans had the most modest needs, saying that only $85,781 would be necessary. Everyone else zipped up past the $100,000 mark, with France coming in at $114,344 and the United Kingdom at $133,010.
Residents of Hong Kong, Singapore and Dubai had the highest totals, with Dubai coming in first with an average of $276,150 for pure happiness.
And money does in fact equate to happiness for most respondents. About 80% said that money would make them happy, the researchers said. That percentage rose to 93% percent in Brazil, while Europeans didn't see as much correlation between money and happiness. In Germany, only 68% of people equated money with happiness.
The survey also asked about debt levels, and -- perhaps not coincidentally -- the countries that required the most money for happiness also had some of the highest average debts. Residents of Dubai said they would need about $19,000 to pay off all their debts, excluding mortgages. Germans only needed about $5,800 to pay their debts -- the lowest of all countries surveyed.
More from Money Now
MARKET UPDATE
[BRIEFING.COM] The Russell 2000 crosssed the 1,000 level for the first time ever today and the S&P 500 established a new all-time, intraday high. Those were some of the more memorable highlights of what was an otherwise nondescript day of trading.

By and large, there just wasn't a lot of conviction on the part of either buyers or sellers. The major indices spent time on either side of the unchanged line, but never put a whole lot of distance between themselves and ... More
More Market News
TOP STOCKS
Silver takes a dive, then sees a rebound
Bargain hunting gives silver a boost after a nasty dive in overnight markets. But worries about rising interest rates and a possible U.S. debt downgrade gives the metal a boost.