Shoe stores struggle to fight online competition
Retailers are turning to new strategies, such as in-person pick-ups and returns of online purchases, to keep customers coming back.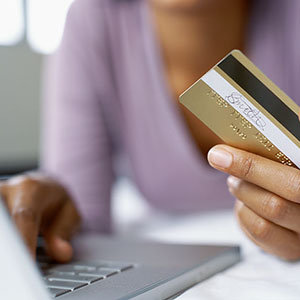 Remember the Yellow Pages slogan, "let your fingers do the walking"?
While retail stores may have benefited from those telephone listings in the past, they're now finding themselves threatened by consumers at home who let their fingers do the typing -- on their way to online purchases.
For example, why wear out your feet looking for shoes when you can purchase them on a website?
CNN Money reports that shoe salesmen at Macy's (M) flagship store in New York City are taking a financial hit, losing their commissions as more people purchase goods online.

Macy's reportedly saw its same-store sales rise by 2.5% over the recent holiday shopping season -- but its online sales were up more than 50%. And the National Retail Federation says overall non-store sales grew by 11.1% over the holidays.
"Shoppers are a lot more conscientious," Macy's shoe salesman Nelson Springer told CNN. "People know what they want, and they want it for as cheap as possible, and they think the place to get that is online."

Brick-and-mortar shoe retailers are facing increasing competition from online rivals like Shoes.com, a subsidiary of Brown Shoe Company (BWS) , and Zappos -- which was acquired by Amazon (AMZN) in 2009.

But footwear and accessories retailer DSW (DSW) says they're rising to the Internet challenge by taking a double-barreled approach -- keeping an eye on store sales while increasing their Web-based business.
DSW spokeswoman Christina Cheng tells the Columbus Dispatch that partnering with the online supply-chain management firm VendorNet helps it fill online orders or orders from other stores.

"If you happen to be in a store and they didn't have your size," she said, "they can look up the store within the nearest proximity and complete the sale for you from that location in a seamless transaction."
At the same time, online companies are finding ways to accommodate their consumers who want to purchase online, but pick up or return goods in person.
Last year, VendorNet started using point-of-sale Advanced Store software from NCR (NCR), linking its in-store, third-party and online inventory "to meet demand for integration of web, brick-and-mortar shopping."
"This twist in the evolution of shopping highlights opportunities retailers have to turn their stores into the ultimate merchandise lockers," said an NCR press release, "by integrating their online and in-store inventory and offering in-store pick-up, return and exchange services for online orders with NCR Advanced Store."
Retailers are also trying to accommodate their employees who are losing ground to Internet shopping trends. Macy's, according to CNN, is letting its salespeople complete online transactions for its in-store shoppers "so that the customer gets the online price and the salesperson gets the commission."
More on moneyNOW

I wear 6 E.  That's the width.  When I ask for 6E at the shoe store, they just look at me funny.  I order my shoes from Brown Shoe Company out of Washington, Mo.  My mom took me there when I told her my feet hurt from the shoes I bought at the in-person stores.  I haven't had any problem with the shoes I get mailed to me.
My shoe size is not something that most brick-and-mortar stores carry (14A) so rather than spend days seaarching for the rare store that carries anything in my size, I order online and get something that I want to wear. The only store in my city that did carry my size rarely had anything I really wanted to wear but had to to protect my feet.
Are you sure you want to delete this comment?
DATA PROVIDERS
Copyright © 2014 Microsoft. All rights reserved.
Fundamental company data and historical chart data provided by Morningstar Inc. Real-time index quotes and delayed quotes supplied by Morningstar Inc. Quotes delayed by up to 15 minutes, except where indicated otherwise. Fund summary, fund performance and dividend data provided by Morningstar Inc. Analyst recommendations provided by Zacks Investment Research. StockScouter data provided by Verus Analytics. IPO data provided by Hoover's Inc. Index membership data provided by Morningstar Inc.
MARKET UPDATE
[BRIEFING.COM] The stock market began the new week on a cautious note. The S&P 500 lost 0.3%, but managed to erase more than half of its opening decline. Thanks to the rebound, the benchmark index reclaimed its 50-day moving average (1976.78) after slipping below that level in the morning.

Equities slumped at the open amid a couple global developments that dampened the overall risk appetite. Continued student protests in Hong Kong and a potential response from China weighed on the ... More
More Market News