Fear drives Hollywood-style German gold move
The country's central bank shrugs off heist concerns as conspiracy theorists and politicians want reserves brought home.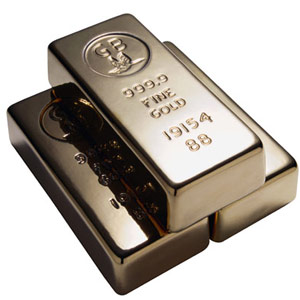 Call Bruce Willis and tell him to pick up Samuel L. Jackson: Germany's about to move some gold from New York.
As Germany's Bundesbank announced Tuesday, it intends to bring 674 tons of gold worth $36 billion out of vaults in the Banque de France in Paris and the Federal Reserve Bank of New York back to Germany within the next eight years.

That involves moving more than 300 tons of gold out of New York alone, which is a tricky enough proposition without factoring the the millions of Americans who saw Jeremy Irons blow through a subway tunnel into the Federal Reserve Bank, load up stolen dump trucks with $140 billion in gold bars and escape through an aqueduct in 1995's "Die Hard: With A Vengeance."

Germany's gold has been sitting in each city since the Cold War, when Germany put it there for safekeeping just in case the Soviet Union decided to breach the Berlin Wall and take over. Its reason for moving the 54,000 gold bars is just as steeped in blockbuster-worthy intrigue.
As the Washington Post's Neil Irwin points out, Germany is at the center of some of the worst financial turmoil on the globe. It's being asked to bail out European Countries and it may see huge inflation of the euro thanks to the European Central Bank buying back bonds from troubled nations. Having experienced hyperinflation firsthand in the 1920s, it's loathe to go through it again. Despite the convenience of just shuffling bars from one cage to another during gold exchanges with other countries, Germany is looking to shut up conspiracy theorists who say the U.S. and France are squirreling away German gold for themselves.
The Bundesbank already took back 850 tons of gold from London between 1998 and 2001, but was criticized last year by Germany's independent Federal Auditors' Office for failing to properly oversee its reserves. The office suggested the bank regularly inspect its gold stored abroad, while politicians pushed for the gold to come back to Germany despite the ominous symbolism behind the gesture by arguably the most economically stable member of the European Union.
.
While it says there is "no doubt about the integrity of the foreign sites" and is still keeping 30% of its $184 billion in gold reserves in New York, the Bundesbank is taking an enormous risk in removing its gold from a vault 80 feet below street level in lower Manhattan and locked behind a 90-ton steel cylinder 9 feet high.
While it says it will move the gold in small shipments with insured ground-to-plane-to-g​round transfers, Germany needs only to look to one of its own airlines to see how it all could go horribly wrong. The cargo unit of Lufthansa, Germany's biggest airline, has already offered its services, spokesman Michael Goentgens said.
"We have specific containers for such cargo, then teams accompanying the cargo until the plane's loaded and ready to take off, then people waiting where the plane lands," he said.
Yes, because the words "Lufthansa" and "heist" never appear in the same sentence. Especially not in an iconic, multimillion-dollar gangster film directed by Martin Scorsese and starring Robert De Niro and Joe Pesci. Isn't that right, NSFW Ray Liotta?
Yes, security measures have improved quite a bit in the last 35 years and, no, neither John McClane nor the Gruber family have any impact on real-world events, but hauling 300 tons of gold across the Atlantic is still a tricky bit of business in these turbulent economic times. A bit of advice: Avoid hiring couriers in crews of 11.
More on Money Now
DATA PROVIDERS
Copyright © 2014 Microsoft. All rights reserved.
Fundamental company data and historical chart data provided by Morningstar Inc. Real-time index quotes and delayed quotes supplied by Morningstar Inc. Quotes delayed by up to 15 minutes, except where indicated otherwise. Fund summary, fund performance and dividend data provided by Morningstar Inc. Analyst recommendations provided by Zacks Investment Research. StockScouter data provided by Verus Analytics. IPO data provided by Hoover's Inc. Index membership data provided by Morningstar Inc.
MARKET UPDATE
[BRIEFING.COM] The stock market finished the Tuesday session on the defensive after spending the entire day in a steady retreat. The S&P 500 (-0.6%) posted its third consecutive decline, while the small-cap Russell 2000 (-0.9%) slipped behind the broader market during afternoon action.

Equity indices were pressured from the start following some overnight developments that weighed on sentiment. The market tried to overcome the early weakness, but could not stage a sustained rebound, ... More
More Market News