T-shirt business ruined after offensive rape slogan
An online shirt shop kicked off Amazon for trying to boost its numbers with randomized apparel phrases runs out of cash.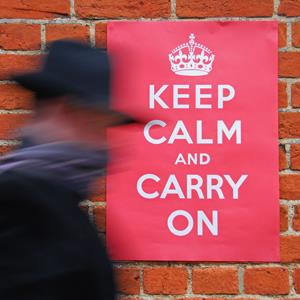 As a company with six employees relying on a computer algorithm to spew out T-shirt catchphrases, you'd think
Solid Gold Bomb
would have wanted to dedicate some time to eliminating words like "rape" from its list of cleared random phrases.
Nope.
Just days after Amazon (AMZN) shut down Solid Gold Bomb's accounts after it produced shirts with phrases like "Keep Calm and Rape a Lot," company founder Michael Fowler told CNN Money that his company is "dead in the water" as a result. According to Fowler, his company, based in Worcester, Mass., has enough cash to make payroll on Friday and that's about it.
Fowler issued an apology on his company's website, but the red flags leading to his company's demise should have been easier to spot than the offensive slogans on the company's shirts. Fowler started producing the "Keep Calm" T-shirts as a parody of the British "Keep Calm and Carry On" propaganda posters from World War II that were embroiled in a copyright dispute both here and in Europe. He decided to "create a large-scale release of parodies (something T-shirt companies often do) and relied on both computer based dictionaries and online educational resources."
The one hitch in his plan to hit the button and watch the money roll in was that "parody" and the definition thereof never found its way into the company's 700-word database. "Rape," "knife," "hit" and "her" certainly did, though. Fowler didn't even realize something had gone wrong until he was in Melbourne, Australia, having his morning cup of coffee and checking Facebook at home, only to see his company's Facebook page littered with accusations of misogyny and death threats.
Fowler says the actual shirts never existed, but images of said shirts were enough to spark the outcry. Yet he also admits that he never gave the company's list of random words a close look and simply used it to boost his catalog offerings from 1,000 to 10 million in an attempt to game Amazon and make his shirts visible to more customers.
"We migrated the business to be print on demand," he told CNN. "It's a numbers game, a quantitative culture. It's never been about taking the time to develop a beautiful design."
Now, just after the arrival of Fowler's third child, his business is almost completely ruined. By attempting to skip over a key design element while dabbling in math with unforeseen ramifications, Fowler learned a lesson that fortune cookie makers learned long ago: Check in on the product every so often. A low-maintenance, low-overhead business on autopilot sounds like a small business coup, but stay on autopilot for too long and you'll be back down to earth just as quickly as you ascended.
About moneyNOW
MoneyNOW brings users smart, original and entertaining takes on the latest business and investing topics that are buzzing on the Web.
MARKET UPDATE
[BRIEFING.COM] The S&P 500 trades lower by 0.3% after being down as much as 1.2% during the opening minutes.

Stocks opened sharply lower as the 7.3% plunge in the Nikkei contributed to the early selling. In addition, China's first contractionary reading of the HSBC Flash Manufacturing PMI in seven months (49.6 actual, 50.5 consensus, 50.4 prior) reminded investors of the persisting growth concerns.

The initial weakness caused an early slump in all ten sectors before the ... More
More Market News
TOP STOCKS
What's in store for Barrick Gold?
President and CEO Jamie Sokalsky points out that the industry's paradigm is shifting toward returns driving production, rather than the other way around.