Soaring ticket prices are killing football attendance
The average cost for a family of 4 to attend an NFL game is $444. That high-def experience in the living room is suddenly looking very good.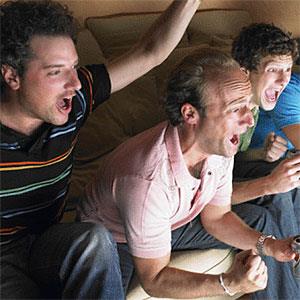 What if they held a football game and nobody came?
Sure, professional and college football remain among the most popular sports in the United States, and television ratings for those games continue to rise dramatically.

But the NFL and college football are seeing more and more empty seats at their stadiums as a growing number of fans opt out from the live experience to watch the game at home or in a bar.
Just last month, NFL Commissioner Roger Goodell acknowledged that broadcast and Web coverage of football is a real threat to stadium attendance and ticket sales.

"One of our biggest challenges in the league is the experience at home," the New York Post quoted Goodell telling fans in Atlanta. And he noted that, with the rapid growth of large-screen high-definition television, the experience "is only going to get better."
The Wall Street Journal reports NFL ticket sales have declined for the past five years, with average game attendance down 4.5% since 2007.
For decades, the NFL has tried to encourage stadium sales with its TV blackout policy of not showing a game in a local team's market if that game hadn't sold out before kickoff. Earlier this year the league announced it was easing that policy, saying "home teams now will have the option of selling 85% of game tickets to avoid a blackout in their local TV market."
But the rising costs of ticket sales are a constant obstacle to putting more football fans in stadium seats.
According to the latest Team Marketing Report's fan cost index (FCI), the average cost for an NFL ticket is $78.38, up 2.5% from last season.  

And the average FCI number for a family of four attending an NFL game -- including non-premium tickets, a couple of beers, soft drinks, hot dogs, some souvenirs and parking -- is $443.93, a rise of 3.9% from 2011.

"Only this season have NFL teams wised up and begun to sell blocks of tickets -- in the nosebleed sections, to be sure -- priced for working people," blogs Allen Barra in the Village Voice.
"Empty seats can be covered up on TV -- the NFL simply instructs the networks to keep the cameras away from the bare spots in the stands," he writes. "But with more and more fans staying home, how does the league make a case that the cities should spend the fans' tax dollars to help finance new stadiums?"
And college football is sharing some of its pro counterpart's financial headaches.

While 35.3 million people reportedly attended college football games this year, the average attendance at regular-season games in college football's highest level, the Football Bowl Subdivision, dropped to just over 45,000 fans in 2012 -- its lowest average level in nine years.

According to Al.com, eight college football powers saw game attendance at their stadiums fall by double digit numbers this year, compared to 2011 -- Kentucky, down 17%, Maryland, down 15%, Stanford, down 13 percent -- with Cincinnati, Wake Forest, Pittsburgh, North Carolina and Colorado all down 10%.
Some schools in the Southeastern Conference, where regular season ticket prices can hover around $100, are trying to lure fans back by offering wireless computer access at their stadiums, so fans can bring their laptops and mobile devices to the games.

The NFL is also hoping to get Wi-Fi into all its stadiums in the near future. In a press conference earlier this year, Goodell said fans at the stadium would then "have access to our RedZone channel, have access to highlights, and be able to engage in social media including Fantasy Football. When you come to our stadiums, we want to make it a great experience."
"We want there to be very little difference between sitting on your couch and being here," Cassie Arner, an Auburn University assistant athletics director, told the Birmingham News. "If we really want to continue to have the strong crowds that we have, then we've got to start being sensitive to making things more convenient for fans, if we can."
More from Money Now
DATA PROVIDERS
Copyright © 2014 Microsoft. All rights reserved.
Fundamental company data and historical chart data provided by Morningstar Inc. Real-time index quotes and delayed quotes supplied by Morningstar Inc. Quotes delayed by up to 15 minutes, except where indicated otherwise. Fund summary, fund performance and dividend data provided by Morningstar Inc. Analyst recommendations provided by Zacks Investment Research. StockScouter data provided by Verus Analytics. IPO data provided by Hoover's Inc. Index membership data provided by Morningstar Inc.
MARKET UPDATE
[BRIEFING.COM] The S&P 500 (-0.5%) remains pressured as every uptick has been met with selling activity. This morning, the health care sector (-0.6%) was an early source of weakness in reaction to concerns about the impact of new rules on tax inversion deals.

Over the past 30 minutes, Bloomberg reported that Pfizer (PFE 30.01, -0.17) has approached Actavis (ACT 242.88, +7.02) about a potential acquisition. Actavis, which traded with a slim loss ahead of the reports, has ... More
More Market News