Starvation wages for Weight Watchers workers
Some meeting leaders say they make less than minimum wage, while celebrity spokeswomen -- and its CEO -- earn millions.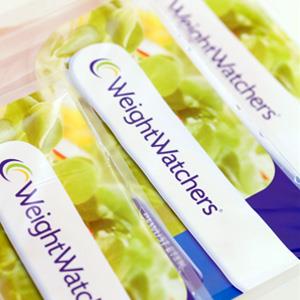 Losing weight is hard, but working for a weight-loss company might be even tougher. 

Weight Watchers (WTW) is coming under fire from some of its leaders, who accuse the company of paying them less than minimum wage, while celebrity spokeswomen earn millions. 
"We are professionals, we have to dress nice, but we are paid less than kids who work at McDonald's," Tammy Williams, a leader in Texas, told The New York Times.
Weight Watchers pays its leaders an $18 base rate for running meetings. But according to some leaders, meetings can require as much as three hours of time, including setting up chairs and cleaning up, the Times notes. That means the hourly pay for some works out to be $6 per hour, or less than the federally mandated $7.25 per hour. 
Meanwhile, the company has spent millions hiring celebrities including Jennifer Hudson and Jessica Simpson, not to mention the $2.96 million it paid to Chief Executive David Kirchhoff in 2011, according to the Times. 
Poor pay is a complaint featured on reviews of Weight Watchers on Glassdoor.com, a jobs and career Website that offers employees at thousands of companies a place to vent. 
One reviewer, who said she was a former receptionist, cited the per-meeting flat rate as a problem, as well as the expectation that workers would perform some tasks -- such as getting change at the bank -- without compensation.
"This is not the job for you if you need to pay the bills," wrote another reviewer, identified as a former meeting leader.
Other low-paying companies are facing similar complaints, as profits and executive pay rebound with the recovery while rank-and-file wages fail to keep pace. Some Wal-Mart (WMT) workers are banding together to demand better wages, for example.
But some see a form of sexism at work, given that many of Weight Watchers' leaders are women. 
"It's a female-dominated job, it's in the service industry, and it's caring work," Sharon H. Mastracci, the author of "Breaking Out of the Pink-Collar Ghetto" and a professor at the University of Illinois at Chicago, told the Times. "Caring work is undervalued, and they're taking for granted that you care so much you're going to be there no matter what."
Weight Watchers' unhappy troops are agitating at an awkward time for the company, which earlier this month reported an 8.9% slide in 2012 profits. CEO Kirchhoff said in a statement that the company has been disappointed by its recruitment trends so far in 2013.
About moneyNOW
MoneyNOW brings users smart, original and entertaining takes on the latest business and investing topics that are buzzing on the Web.
MARKET UPDATE
[BRIEFING.COM]
July crude oil traded in negative territory today following China's HSBC Flash Manufacturing PMI data that showed a first contractionary reading in seven months. The energy component dipped to a session low of $92.21 per barrel in morning action but managed to erase most of the earlier losses as prices rallied to a session high of $94.35 per barrel heading into the close. Crude oil settled just 0.1% lower at $94.14 per barrel.
June natural gas opened floor trade in ... More
More Market News
TOP STOCKS
Many signs point to a dollar rally
With Europe mired in recession, China faltering, commodities declining and stocks looking vulnerable, investors seeking safety will look to the greenback.