IPOs are popping like it's 2007
The market is back to pre-recession levels for initial public offerings.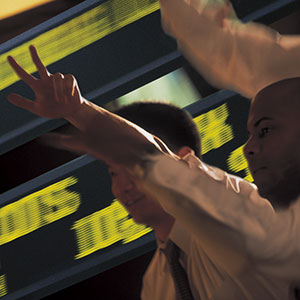 Here's another bit of good news about the health of the stock market: U.S. businesses are on track this year to raise as much money through initial stock offerings as they did before the recession. 

So far in 2013, the market has seen 64 initial public offerings, raising $16.8 billion, according to The Wall Street Journal, which cites data from Dealogic. Just last week, investors got treated to 11 IPOs, marking the busiest week for initial stock sales since December 2007.
Among the high-profile offerings this year have been Fairway (FWM), the cult supermarket that New Yorkers love, and SeaWorld Entertainment (SEAS), which operates theme parks featuring jumping dolphins and roller coasters bearing names like the Kraken. 
The newly hot IPO market is accompanying a rise in the overall equity market, with the Dow Jones Industrials ($INDU) and the Standard & Poor's 500 Index ($INX) ending last week at record highs. 
For companies, a stronger IPO market bodes well because it allows them to raise money for expanding their businesses or to whittle down debt. So far, this year has not seen the type of price swings that have hurt the stock market since the recession started, The Journal points out. 
The biggest 25 IPOs this year have gained, on average, 22% from their beginning trading prices, according to Dealogic. The S&P 500, meanwhile, has gained about 14.6%. 
Still, it's a far cry from the bubble days of the late 1990s, when startup Internet businesses sold shares without even seeming to have a business plan. "It's definitely still not like when just anybody could file a prospectus and launch a deal," Richard Truesdell of the law firm Davis Polk & Wardwell told the publication. 
More deals are coming. Some big ones in the pipeline that The Journal noted include HD Supply Holdings, an industrial distributor that wants to raise $1 billion, and Brazilian cement company Votorantim Cimentos, which aims to raise $5.4 billion. 
Follow Aimee Picchi on Twitter at @aimeepicchi.

Stumper1948 is correct in his comments on the IRS and his understanding as to a real conservative vs. what we have out there today.
I would also add that the IRS, and I am not saying it is right, all the time will zero in on a certain group of people (small restaurant businesses, etc) and or category of taxes such as deductions for business expenses, etc. This is no different than zeroing in on a bunch of so called " Tea Party" clowns. So why Obama thinks he needs to get involved in this is beyond me. in fact, in needs to stay out of this and handle the real duties of a president vs. this BS. . 

The IRS is a virtually autonomous organization so all you jackasses trying to blame Obama, the liberals or anyone outside the IRS are wrong to the point of being morons.  Also, thanks to budget cuts initiated way back, that organization is overloaded to the point of being unable to function properly so the "short cuts" targeting likely problem areas.  Anyone making over 2 million/yr but paying less than their "bracket rate" should be audited but they don't have the manpower. 
The "tea baggers" HAVE a political agenda.  In what way is this a legitimate "non-profit" activity? Perhaps Rush Limbaugh or Glen Beck should apply for tax exempt status?
One moron here posts about ACORN which was destroyed and ceased to exist PRIOR to the last election, by a Brietbart associate who made a super-edited, highly dubbed video purporting to show ACORN workers advising a pimp on illegal activities.  Great thinking.  I ran into another conservative moron recently who thought ACORN was responsible somehow for Obama's re-election.  (Note to self righteous morons, I already told you ACORN had ceased to exist well before the elections....don't take my word for it, look it up...naaaa....why bother, Glenn Beck will explain that they just went underground.)  
Whenever I read ANYTHING by  rabid conservatives a.k.a tea baggers, what is revealed are creature who are grossly uninformed and utterly clueless as to any actual events or facts.  A total lack of any analytical ability also becomes obvious.  In short, you people would have been right up front in a crowd of Nazis.  
I am NOT liberal.....I AM anti-stupid.  The "real conservative" no longer exists...only you yappers and finger pointing dead beats.
Are you sure you want to delete this comment?
DATA PROVIDERS
Copyright © 2014 Microsoft. All rights reserved.
Fundamental company data and historical chart data provided by Morningstar Inc. Real-time index quotes and delayed quotes supplied by Morningstar Inc. Quotes delayed by up to 15 minutes, except where indicated otherwise. Fund summary, fund performance and dividend data provided by Morningstar Inc. Analyst recommendations provided by Zacks Investment Research. StockScouter data provided by Verus Analytics. IPO data provided by Hoover's Inc. Index membership data provided by Morningstar Inc.
MARKET UPDATE
[BRIEFING.COM] The major averages ended the midweek session with slim gains after showing some intraday volatility in reaction to the release of the latest policy directive from the Federal Open Market Committee. The S&P 500 added 0.1%, while the relative strength among small caps sent the Russell 2000 higher by 0.3%.

Equities spent the first half of the session near their flat lines as participants stuck to the sidelines ahead of the FOMC statement, which conveyed no changes to the ... More
More Market News