Student pays tuition with 230 pounds of coins
Devin DeFraine rolls in boxes of coins in protest after his university added a new fee for credit-card payments.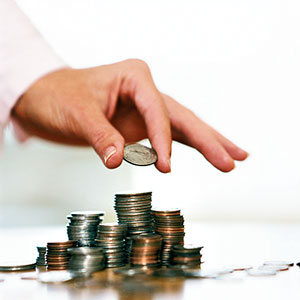 OK, it's kind of fun to pay your parking ticket in coins -- or at least dream of it, anyway -- but to pay an entire college tuition?
That's what one Canadian college student did recently, wheeling in boxes filled with 230 pounds of coins to protest a new fee at Mount Royal University. Devin DeFraine was so upset by the new fee, which
reportedly
amounts to an extra $57 for a five-course semester, that he decided to pay his entire $3,000 tuition in rolled-up dimes and nickels.
"If they're gonna nickel and dime us, I'll nickel and dime them," he told CBC News in
this video
.
In the past, the university picked up the fees of up to 1.89% for students paying tuition with a Visa or MasterCard, CBC reports. But now the school is passing on the fees to students. About 90% of the students at the university pay by credit card.
DeFraine got quite a workout wheeling in those coins. The protest obviously involved much more work on his part than the university's. Still, school officials had to contend with boxes filled with dimes and nickels, and DeFraine got a little bit of satisfaction that his statement was heard.
But Mount Royal University probably won't change its policies anytime soon. Sure, it's got some cranky students now, but it saves an estimated $500,000 by passing on the costs.
But please, students, don't look to the actions of Michael Lynch as any guide. The 47-year-old resident of Bellevue, Wash., was so angry about a traffic ticket in 2009 that he emptied $206 in coins into a plastic bag and poured urine on top, The Oregonian
reported
. He mailed it to the county courthouse, which promptly handed the package to a sheriff's sergeant. The sergeant mailed the package back.
More from Top Stocks
About moneyNOW
moneyNOW brings users smart, original and entertaining takes on the latest business and investing topics that are buzzing on the web.
MARKET UPDATE
[BRIEFING.COM] The S&P 500 is higher by 0.4%.

April existing home sales hit an annualized rate of 4.97 million units, which was weaker than the rate of 4.98 million units that had been generally expected by the Briefing.com consensus. The pace for April was up from the prior month's revised rate of 4.94 million units. Nasdaq +15.34 at 3517.46... NYSE Adv/Dec 1730/995... Nasdaq Adv/Dec 1292/886.
More Market News