Airline mergers mean fewer, costlier flights
The deal between US Airways and American Airlines should continue the recent trend of lower capacity and higher fares. Passengers might gripe, but profits will rise.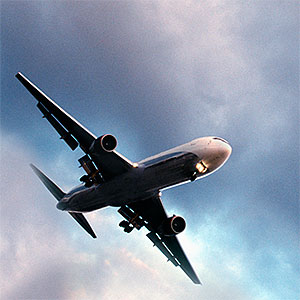 If airfares across the U.S. don't feel cheap now, just wait until American Airlines' merger with US Airways (LCC) goes through.
Matthew Iglesias at Slate makes the argument that not only have domestic airfares remained eminently affordable until just recently, but they're also still better than they would have been had the airlines not been deregulated in the late 1970s. Kiss those cheap airfares goodbye, though, as the number of flights airlines make available and the number of airlines resisting fare hikes dwindles with each merger.
Common thinking is that domestic airlines have been losing money hand over fist since the September 11 terrorist attacks. To a degree, that's true. Since 2001, airlines have reported losses in six of the last 11 years according to the Department of Transportation's Bureau of Transportation Statistics. However, the last time the airlines reported losses was in 2008, when they lost nearly $3.6 billion combined.
What could have happened after that point to not only stop the bleeding but give the airlines more than $6 billion in profits each year since 2010 and help them eclipse their pre-9/11 take of $5.3 billion in 2000? It had just a little something do with Delta (DAL) and Northwest merging in 2008 and 2009, Southwest Airlines (LUV) acquiring AirTran in 2010 and 2011 and United (UAL) and Continental merging during that same span.
The number of domestic flights has fallen from 9.8 million just before the mergers in 2007 to 8.6 million in 2011. The final 2012 numbers aren't in, but they were already trending lower as of October. Plus, the remaining flights were increasingly packed as planes went from an average of 79.8% of capacity in 2008 to 83.6% last year.
As Iglesias notes, a stated goal of the American/US Airways merger is to further decrease capacity and target overlapping routes to Dallas-Fort Worth, Philadelphia, Tallahassee, Charlotte and other smaller markets that both airlines serve. More important, merging two airlines takes a voice of dissent out of the mix whenever a fare increase comes up.
Rick Seaney at FareCompare tracks such increases and notes that of the 15 airfare hikes that were attempted last year, only seven remained in place. Airlines approach fare hikes the way kids approach cool new toys at recess: If enough of them are into it, everybody will have one by the end of the week. All it takes is one airline reverting to normal fares to kill a fare hike, so reducing the field.
As a result, average fares that never eclipsed $320 between the end of 1995 and 2006 jumped to $345 by the end of 2008 and climbed to $368 at the close of 2011. Last year, average fares peaked a $385 in spring and early summer.
Once the American/US Airways merger is complete, four airlines will control 70% of all domestic air travel. While Southwest is among them, don't expect the discount carrier to help keep things cheap. Four of the seven fare hikes that went through last year came courtesy of Southwest and its absent baggage fees.
The motivation to keep flights cheap and comfortable is vanishing, but cramped passengers might take some comfort knowing their unpleasant cattle car trip is the best option for carriers looking to keep profits aloft.

Someone has some good points like the loosing of the Taft-Hartley Act.  I can recall when there were many airlines and price competition was fierce among them.  Prices were good, no cattle car BS.  Now its just the opposite.  And all this, "I'm not making a profit is pure BS.  It's like they want you to believe that the shareholders are suffering from mal-dollar nutrition.  The problem is a contrived thing called inflation.  Understand this:  there is billions and billions of barrels of oil out here and it's kept at a inflationary price to make somebody greedy wealthy.  There use to be a time when you could fly non-stop across this country but not anymore.  You gotta fly and make 3/4 stops along the way.  Think that drives up fuel costs?  I mean to get to Chicago you go through Huston or Dallas?   Hmmmmm!  Wonder why it costs what it does to fly today?  As far as the T-H Act goes, once the powers that be get everything the way they want it it may get enacted again. 

I made reservations on Southwest for a round trip flight in May for 3 from Denver to SoCal last week during their sale. Total price - $645, 215 a person. After the sale another $30 each way per person. No complaints. I always and only fly Southwest, and watch for the sales, then book.
Sure, it's a cattle car, but they are punctual, efficient, and cheap, AND your first 2 bags are free, and I'm no millionaire who HAS to fly first class or nothing. No one else can or will do that. In today's economy, that's a business model that shows concern for their customers, not profits. With dozens of flights a day to choose from, it's a matter of quantity making the profits for them. Screw the rest of the greedy bastidges.

Looks like it is time to nationalize the aviation industry, again.  As with the petroleum energy, banking and many other industries accross the United States, competition is no longer part of the equation.   Certain administrations and honest congressmen and women recognized that free enterprise would not remain so free without certain government applied restraints.  Those restraints included the Taft Hartley Anti Trust legislation, which has since been allowed more recent elected legislators and senators to go by the wayside.  Out elected officials no longer serve the public; they serve only their self interests and ambitions to become wealthy at the expense of the US taxpayer.  Those same taxpayers that elected Obama and continue to elect people like Reed and Palosi.  Those same taxpayers that have blindly allowed the liberal media persuade them that the Tea Party is a bad thing for the country, using repetitive lies and false innuendos.  Of course, a great number of those voters do not even pay taxes. 

Are you sure you want to delete this comment?
DATA PROVIDERS
Copyright © 2014 Microsoft. All rights reserved.
Fundamental company data and historical chart data provided by Morningstar Inc. Real-time index quotes and delayed quotes supplied by Morningstar Inc. Quotes delayed by up to 15 minutes, except where indicated otherwise. Fund summary, fund performance and dividend data provided by Morningstar Inc. Analyst recommendations provided by Zacks Investment Research. StockScouter data provided by Verus Analytics. IPO data provided by Hoover's Inc. Index membership data provided by Morningstar Inc.
MARKET UPDATE
[BRIEFING.COM] The stock market began the new trading week on the defensive note with small-cap stocks pacing the retreat. The Russell 2000 (-1.4%) and Nasdaq Composite (-1.1%) displayed relative weakness, while the S&P 500 lost 0.8% with all ten sectors ending in the red.

Global equities began showing some cracks overnight after China's Finance Minister Lou Jiwei poured cold water on hopes for new stimulus measures. Specifically, Mr. Lou said the government has no plans to change ... More
More Market News