A Wall Street Journal editor goes off the deep end
Editorial board member Dorothy Rabinowitz's rant against New York City's bike-sharing program is generating little but mockery.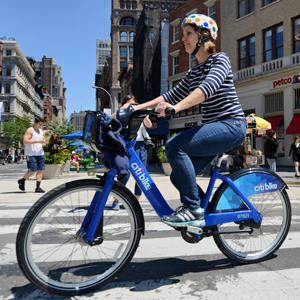 Wall Street Journal editorial board member Dorothy Rabinowitz's
ridiculous rant
against New York City's new bicycle-sharing program has taken the Internet by storm, generating heaping helpings of
mockery and scorn
.
But it also puts Rupert Murdoch's
News Corp.
(
NWS
) empire in an uncomfortable position as it prepares later this month to split its financially challenged publishing business from the more lucrative parts of his empire such as Fox News Channel.
Murdoch publications such as The Wall Street Journal, the New York Post and the Times of London will no longer be able to count on a steady stream of cash from the profitable enterprises to keep them afloat. The Post and Times of London have been unprofitable for years, which only adds to the pressure on The Wall Street Journal, where Rabinowitz has worked since 1990.
News Corp. has
big goals for the paper
, planning to compete against professional social network
LinkedIn
(
LNKD)
and financial data provider Bloomberg, whose news division has come under fire for snooping on company clients. But these projects may take years to come to fruition, if they happen at all.
Since Murdoch bought the paper's parent company Dow Jones for $5.6 billion, The Wall Street Journal has broadened its coverage into issues affecting residents of New York City. The results have been mixed. Some pundits have argued that it has lost its focus on business and economics. Other readers clearly enjoy the provocative stances taken by Rabinowitz, a Pulitzer Prize winner, and other members of the paper's famously conservative editorial board.
But a line exists between provocative and daft, and Rabinowitz crossed it. Her comments about "totalitarians running the government of the city" or that the "the bike lobby is an all-powerful enterprise" were strange, to say the least. And the reaction on Twitter has been brutal.
Journalist David Frum, hardly a bleeding-heart liberal, said: "The Kulturkampf over bikes in Manhattan seems more obviously explained by age resentment (old v younger) than class."
Business Insider editor Jim Edwards chimed in: "WSJ clearly run by leftist stooges to make conservatives look crazy."
The  hullabaloo will die down, as it almost always does. Robert Thompson, who will become News Corp.'s new CEO, may at some point decide that retaining Rabinowitz will do The Wall Street Journal more harm than good if she keeps going on such rants. That point, however, hasn't arrived yet.
Jonathan Berr does not own shares of the listed stocks. Follow him on Twitter @jdberr.

 "WSJ clearly run by leftist stooges to make conservatives look crazy."
====================​====================​===============
So does this means that conservatives lack the cerebral capacity to prevent themselves from being manipulated by loony lefties, does this explain Bachmann and Palin?  Does Jon Stewart really write Limbaugh's and Beck's material?  
Are you sure you want to delete this comment?
DATA PROVIDERS
Copyright © 2014 Microsoft. All rights reserved.
Fundamental company data and historical chart data provided by Morningstar Inc. Real-time index quotes and delayed quotes supplied by Morningstar Inc. Quotes delayed by up to 15 minutes, except where indicated otherwise. Fund summary, fund performance and dividend data provided by Morningstar Inc. Analyst recommendations provided by Zacks Investment Research. StockScouter data provided by Verus Analytics. IPO data provided by Hoover's Inc. Index membership data provided by Morningstar Inc.
MARKET UPDATE
[BRIEFING.COM] The stock market welcomed the new trading week with a mixed session that saw relative strength among large-cap stocks, while high-beta names underperformed. The Dow Jones Industrial Average (+0.3%) and S&P 500 (-0.1%) finished near their flat lines, while the Nasdaq Composite and Russell 2000 both lost 1.1%.

Equities began the day on a cautious note amid continued concerns regarding the strength of the global economy. Over the weekend, China reported its first decline ... More
More Market News