Show doctors an X-ray of prices to lower costs
When physicians are aware of laboratory pricing, they order fewer diagnostic tests and seek less expensive alternatives, says a new study.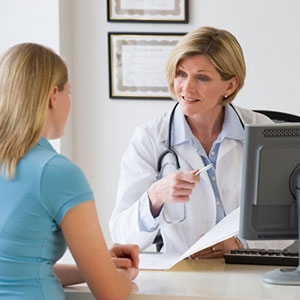 Here's some heartening news: There's a good chance your doctor is as cost-conscious as you are when it comes to the bills for your treatment.
Researchers at Johns Hopkins say if hospitals would be more transparent about costs and show physicians the prices of the lab tests they order, those doctors would order fewer tests or look for less expensive alternatives.

According to the study, conducted at Johns Hopkins Hospital, offering upfront price information lessened the overall ordering of diagnostic lab tests by about 9%. The researchers say most hospitals keep both patients and health care providers in the dark when it comes to the cost of their medical services -- which in turn contributes to the soaring price of U.S. health care.

"We generally don't make decisions based on what is cost-effective or what is known to be absolutely necessary for our patients, but knowing the cost of things appears to make us more thoughtful about what we think might be best for their health," Dr. Leonard Feldman, an assistant professor of medicine at the Johns Hopkins University School of Medicine and the study's lead author, said in a press statement.
"There's a lot of waste in medicine," he said, "because we don't have a sense of the costs of much of what we do."
The study also found that sharing the price of those tests saved Johns Hopkins Hospital hundreds of thousands of dollars over a six-month period. That may or may not help insurers like Aetna (AET) or UnitedHealth (UNH), but it could certainly make a big difference to hospitals struggling to contain costs and retain staff. 
Dr. Daniel Brotman, one of the study's senior authors, says some of the more expensive and specialized diagnostic tests, like MRIs, were still ordered despite their prices being listed -- probably because there aren't alternatives to those kinds of imaging tests and because that information can be vital for a proper diagnosis.
But when it comes to more common lab tests, Brotman says having doctors change their ordering patterns for small-ticket items will make the biggest, long-term differences in savings.
"The total cost of cheaper tests dwarfs the cost of expensive tests, which are ordered less frequently," he said. "It's like getting practitioners to switch from a $3.50-a-day latte habit to a cheaper $1-a-day cup of regular coffee."
But the researchers warn there's no "one-size-fits all" approach when it comes to ordering diagnostic tests, especially for a patient with unclear symptoms. Sometimes, notes Feldman, it makes more sense -- and is ultimately less expensive -- to run a series of tests that might lead to a quicker diagnosis and an early start to treatment, rather than watching a patient's hospital bills tick upward during the wait for a definitive diagnosis.

1.   Stop setting quota slots at universities for medical students.   Get the AMA out of it.   Anyone who is qualified should have a shot at medical school.
2.   Allow individuals to negotiate with their insurance company to allow individuals to outsource medical care overseas including dental care.
3.   Make all doctors, hospitals and medical clinics subject to anti monopoly laws.    All of them must advertise on the TV and must set their rates prior to entry into their hospital.  
4.   Set liability claims at a max for doctors and hospitals.  
5.  Allow people to purchase medicines by prescription in both Canada and Mexico.
This is a start.
Are you sure you want to delete this comment?
DATA PROVIDERS
Copyright © 2014 Microsoft. All rights reserved.
Fundamental company data and historical chart data provided by Morningstar Inc. Real-time index quotes and delayed quotes supplied by Morningstar Inc. Quotes delayed by up to 15 minutes, except where indicated otherwise. Fund summary, fund performance and dividend data provided by Morningstar Inc. Analyst recommendations provided by Zacks Investment Research. StockScouter data provided by Verus Analytics. IPO data provided by Hoover's Inc. Index membership data provided by Morningstar Inc.
MARKET UPDATE
[BRIEFING.COM] The stock market finished the Thursday session on a higher note with the S&P 500 climbing 0.5%. The benchmark index registered an early high within the first 90 minutes and inched to a new session best during the final hour of the action.

Equities rallied out of the gate with the financial sector (+1.1%) providing noteworthy support for the second day in a row. The growth-oriented sector extended its September gain to 1.9% versus a more modest uptick of 0.4% for the ... More
More Market News