Whole Foods grilled over English-only policy
The grocer denies a report that 2 workers claim they were suspended for speaking Spanish.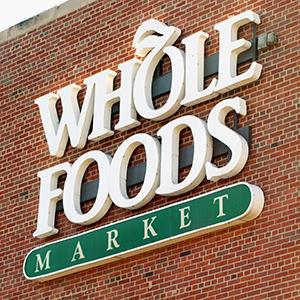 Whole Foods (WFM) claims something got lost in translation. 

Two workers at a New Mexico store say that they were suspended for speaking Spanish and that a manager told them only English is allowed during work hours, The Associated Press reports. 
That has led to outrage from some Twitter users. One wrote, "Hey @WholeFoods we are good enough to slave in the fields to get your food, but can't speak Spanish during work?"
Some consumers are threatening to boycott the grocery chain, known for organic produce and free-range eggs. 
Now Whole Foods says the incident was a misunderstanding and the company doesn't have a policy against speaking foreign languages. Nevertheless, the high-end grocer said it does have a policy that English is its default language for "consistent communication, inclusion, and especially for safety and emergency situations." The company issued the statement in both English and Spanish. 
The issue is a touchy one in the workplace. The Equal Employment Opportunity Commission sued the Salvation Army in 2007 over its requirement that workers in a Massachusetts office speak only English. Such conflicts may be more common as more people speak languages other than English at home. The nation gained 24.4 million Spanish speakers from 1980 to 2009. 
The EEOC says English-only policies "will rarely be justified," although there are circumstances in which a rule may be necessary, such as to communicate emergencies or other situations in which safety is at risk. 
Worker Bryan Baldizan told the AP that he and a female worker were suspended for a day after they wrote a complaint letter after a meeting in which they were told Spanish wasn't allowed during work hours. 
"I couldn't believe it," he said. "All we did was say we didn't believe the policy was fair. We only talk Spanish to each other about personal stuff, not work."
As outrage mounts over the report, it has sent Whole Foods deep into crisis mode. The grocery chain said the workers were suspended for "rude and disrespectful behavior." Whatever happened, one thing seems certain: Whole Foods has a big mess on its hands.
Follow Aimee Picchi on Twitter at @aimeepicchi. 
DATA PROVIDERS
Copyright © 2014 Microsoft. All rights reserved.
Fundamental company data and historical chart data provided by Morningstar Inc. Real-time index quotes and delayed quotes supplied by Morningstar Inc. Quotes delayed by up to 15 minutes, except where indicated otherwise. Fund summary, fund performance and dividend data provided by Morningstar Inc. Analyst recommendations provided by Zacks Investment Research. StockScouter data provided by Verus Analytics. IPO data provided by Hoover's Inc. Index membership data provided by Morningstar Inc.
MARKET UPDATE
[BRIEFING.COM] S&P futures vs fair value: -5.50. Nasdaq futures vs fair value: -11.80. U.S. equity futures continue holding modest losses with the S&P 500 futures down six points below fair value.

The Dollar Index began the night in the red after gaining 0.6% last week, but a steady rally off the lows has placed the index back near its flat line for the session. The dollar is currently little changed versus the yen (109.05), while the euro (1.2844) and the pound (1.6330) ... More
More Market News