Meet the class of 2013, the most indebted yet
This year's grads are leaving college carrying the largest loan burden in US history. Welcome to Generation Debt.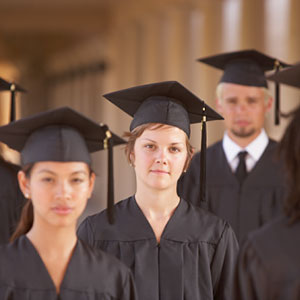 Thousands of 20-somethings will receive freshly minted diplomas this month as they trot across the stages of their colleges and universities and their proud families look on. But for many, the diploma has a downside, given that the class of 2013 is entering professional life as the most indebted grads ever. 

Call it Generation Debt.
The average student loan debt for a borrower receiving a bachelor's degree in 2013 reached a record $30,000, according to an analysis of government data by Mark Kantrowitz, a publisher at Edvisors, and as cited by The Wall Street Journal.
The average debt load has mushroomed. Even adjusted for inflation, students graduated with half that debt load just 20 years ago, the paper notes. 
At least one estimate is benchmarking this year's debt level at an even higher amount. Fidelity said a recent poll found 70% of this year's graduating class has average college-related debt of $35,200. 
The rising cost of a college education is getting increasing scrutiny from parents and lawmakers. 
Given that the country has more than $1 trillion in student loan debt, some see the burden of repayment as a damper on the economy. For instance, a 20-something paying off a hefty college loan has that much less to put toward buying a home or a car. That could spell bad news for companies such as mortgage lenders like Wells Fargo (WFC) and automakers like Ford (F). 
Sen. Elizabeth Warren, D.-Mass., earlier this month proposed giving students a break by allowing them to pay the same rock-bottom interest rates the Federal Reserve charges banks. Right now, grads pay 3.4% on federally subsidized Stafford loans. 
Because of that higher rate, the federal government is set to earn a profit of more than $110 billion over the next four years.
At least students with a diploma are more likely to be employed and earn more than those without degrees, which should help many pay off those record loans. The unemployment rate for college grads over age 25 was 3.9% in April, well below the 7.4% rate for those with only high school diplomas, according to the Bureau of Labor Statistics.
College grads earn an average of $1,066 a week, compared with $652 per week for those high-school-only grads, the agency reports. 
Yet with no interest rate relief in sight and tuition continuing to rise at many colleges, it's likely 2013's grads may hold the title of most indebted class only until the class of 2014 walks across the stage next year. 
Follow Aimee Picchi on Twitter at @aimeepicchi. 
DATA PROVIDERS
Copyright © 2014 Microsoft. All rights reserved.
Fundamental company data and historical chart data provided by Morningstar Inc. Real-time index quotes and delayed quotes supplied by Morningstar Inc. Quotes delayed by up to 15 minutes, except where indicated otherwise. Fund summary, fund performance and dividend data provided by Morningstar Inc. Analyst recommendations provided by Zacks Investment Research. StockScouter data provided by Verus Analytics. IPO data provided by Hoover's Inc. Index membership data provided by Morningstar Inc.
MARKET UPDATE
[BRIEFING.COM] Equity indices remain near their best levels of the session with the S&P 500 trading higher by 0.4%.

Although the third week of September is nearing its end, there is still one big unknown that needs to be resolved ahead of the weekend. Specifically, the results of the Scottish independence referendum are expected to trickle in during the course of the night.

Many European banks have announced that their foreign exchange desks will be fully staffed in ... More
More Market News
TOP STOCKS
Meet Alibaba's new billionaires
Despite its size, the IPO will create just two new members of the 10-figure club from its executive ranks. A few others could net hundreds of millions.