Monsanto: Genetically altered wheat may be sabotage
The world's largest seed company says a 'purposeful' act could explain the unapproved genetically engineered crop.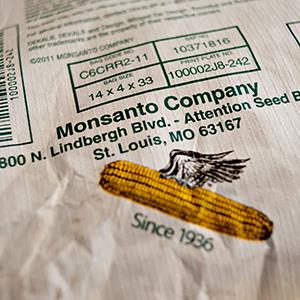 Rogue wheat from genetically engineered seeds may have been introduced to an Oregon field through an act of sabotage, according to seed giant Monsanto (MON).

The genetically modified organism's planting also could have been accidental, Monsanto chief technology officer Robb Fraley said on a conference call, Bloomberg reports.
"It seems likely to be a random, isolated occurrence more consistent with the accidental or purposeful mixing of a small amount of seed during the planting, harvesting or during the fallow cycle in an individual field," Fraley said. 
Asked whether it could be sabotage, Fraley said the company is looking into the possibility. Monsanto is "certainly not implicating the farmer at all in this," he added.
The U.S. Department of Agriculture is also investigating how the wheat seed, which isn't approved for commercial planting, ended up in an Oregon field. 
The discovery of the GMO wheat sent shock waves throughout the agricultural and food worlds. Not a single country, including the U.S., has approved genetically modified wheat, according to KCET.org. 
The fallout has already been swift, with U.S. wheat banned in both Japan and South Korea after the discovery. Wheat prices may drop as additional countries postpone or delay wheat purchases in the wake of the discovery, Bloomberg notes. 
Critics of GMOs say the altered crops could introduce new toxins and allergens into the food system and the environment. That has led to a push from some consumers for mandatory labeling of genetically engineered foods, although no current law requires companies to do so. 
Unilever's (UL) Ben & Jerry's ice cream recently jumped on the issue. The company plans to source all its products as GMO-free by 2014. 
The wheat found on the Oregon farm was a strain of experimental seed designed to withstand Monsanto's Roundup weed killer. Such genetically engineered seeds are aimed at allowing farmers to douse their fields with herbicide, killing all plants except the Roundup Ready crops. 
The unapproved wheat was found on less than 1% of a 125-acre field, Fraley said. Tests of commercial wheat seeds from 30,000 samples in Oregon and Washington showed no signs of genetic engineering, the Portland Business Journal notes.
Follow Aimee Picchi on Twitter at @aimeepicchi. 
DATA PROVIDERS
Copyright © 2014 Microsoft. All rights reserved.
Fundamental company data and historical chart data provided by Morningstar Inc. Real-time index quotes and delayed quotes supplied by Morningstar Inc. Quotes delayed by up to 15 minutes, except where indicated otherwise. Fund summary, fund performance and dividend data provided by Morningstar Inc. Analyst recommendations provided by Zacks Investment Research. StockScouter data provided by Verus Analytics. IPO data provided by Hoover's Inc. Index membership data provided by Morningstar Inc.
MARKET UPDATE
[BRIEFING.COM] The Dow Jones Industrial Average, Nasdaq Composite, S&P 500 and S&P 400 are each up 0.2% in what has been a choppy trade today. It is peculiar to see such uniformity in returns. If we didn't know any better, we'd say the computers are calling the shots today.

Whatever the case may be, it is evident that the market isn't going to cough up last week's gains easily -- certainly not today anyway.

Large-cap and mid-cap issues look to be the outlet of ... More
More Market News
TOP STOCKS
Tech stocks still aren't out of the woods
The fall in this sector has been so precipitous and lurking that we are just one more big miss and one more ugly deal away from taking down a good portion of the S&P 500.