Should stranded adventurers pay for own rescue?
Some states are considering billing victims for back-country rescues. But one group warns that the policy may discourage people from getting help.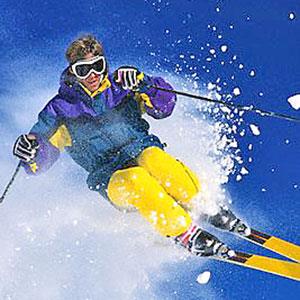 The blogosphere is afire with praise for an in-depth and amazing multimedia report by the New York Times about the world-class skiers who were caught up in a deadly avalanche last winter in Washington state.

The report focuses on the perils facing skiers who go into the unmonitored back country. It also coincides with news that several states -- including those where skiing, hiking and other outdoor recreation are big business -- are considering legislation to bill victims of back-country mishaps for some rescue operations.

Lawmakers in Wyoming are considering a bill that would let local law enforcement charge for search-and-rescue (SAR) missions in cases where they believe the victims put themselves into harm's way.

The legislation came after an incident last winter: a $14,000 operation to rescue three snowmobilers trapped in a mountain pass. When state officials asked the snowmobilers to help pay for some of the costs of their rescue, the three hired an attorney -- who questioned if the state had the authority to ask for such a payment.

In response, the proposed measure would let rescue payments "be left up to the discretion of the sheriff (involved)," Wyoming representative Keith Gingery, the bill's sponsor, told the Jackson Hole News and Guide. "They'll say which ones are victims or whether someone may have contributed to the situation."
If the measure is passed, Wyoming would join a growing list of states and counties that allow some sort of fee for search-and-rescue operations. 

"If you're getting rescued, there should be an expectation you're going to participate in the cost of that rescue," New Hampshire senate Republican leader Jeb Bradley said in an interview with the Associated Press.

Lawmakers are hoping these fees will not only help fund local SAR operations, but encourage adventurers to be more cautious in back country areas.
Colorado has a "Corsair" card that residents and visitors can purchase for $3 a year or $12 for five years. Colorado.gov says that by purchasing the card, "you are contributing to the (state's) Search and Rescue Fund, which will reimburse these teams for costs incurred in your search and rescue." But it also warns the card is not insurance, nor does it pay for medical transport.

Grand County, Utah, meanwhile, lists a sliding scale of fees on its website for SAR operations -- with collectable costs anywhere from $250 for a small incident, classified as taking less than three hours with six or fewer responders, to $750 dollars for a "large incident" requiring more than three hours with seven or more responders. Those fees do not include extras like helicopter rental, fuel costs and any damage to equipment.
But the idea of billing the victims of outdoor adventures also has its opponents.

In an online position statement, the National Association for Search and Rescue worries that some victims in life-threatening situations may put money concerns over safety and decline to contact potential rescuers.
"A perceived or actual belief that the subject of a SAR mission will be billed for the lifesaving actions undertaken on their behalf must not delay or interfere with a timely call for help," the statement notes. 

"Delays can place SAR personnel in extreme danger and unnecessarily compound and extend the length of the SAR mission," the statement adds. "Because of these factors, and to eliminate the fear of being unable to pay for having one's life saved, SAR services should be rendered to persons in danger or distress without subsequent cost recovery from the person(s) assisted unless prior arrangements have been made."
More from Money Now
DATA PROVIDERS
Copyright © 2014 Microsoft. All rights reserved.
Fundamental company data and historical chart data provided by Morningstar Inc. Real-time index quotes and delayed quotes supplied by Morningstar Inc. Quotes delayed by up to 15 minutes, except where indicated otherwise. Fund summary, fund performance and dividend data provided by Morningstar Inc. Analyst recommendations provided by Zacks Investment Research. StockScouter data provided by Verus Analytics. IPO data provided by Hoover's Inc. Index membership data provided by Morningstar Inc.
MARKET UPDATE
[BRIEFING.COM] The stock market began the new week on a cautious note. The S&P 500 lost 0.3%, but managed to erase more than half of its opening decline. Thanks to the rebound, the benchmark index reclaimed its 50-day moving average (1976.78) after slipping below that level in the morning.

Equities slumped at the open amid a couple global developments that dampened the overall risk appetite. Continued student protests in Hong Kong and a potential response from China weighed on the ... More
More Market News