Next battleground for unions: Marijuana
Surprisingly, some business owners welcome organizing efforts by employees.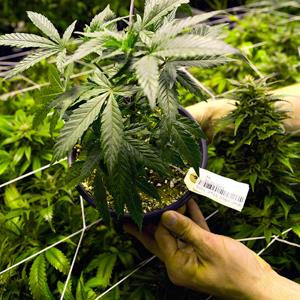 The multibillion-dollar marijuana industry has become a hotbed of union organizing.
According to Reuters, the United Food and Commercial Workers Union, the largest retail union, has been bombarded with requests from dispensary workers to join since the election. "I can't keep up," Dan Rush, who heads the union's cannabis division, tells the news service.
The stakes couldn't be higher. As CNBC recently pointed out, estimates of the size of the burgeoning marijuana industry range from $10 billion to $120 billion.

The pro-marijuana group NORML calls pot the third-most-popular recreational drug in the U.S., ranking behind alcohol and tobacco. Nearly 100 million people have admitted to partaking. Not surprisingly, union organizers are interested in the industry, which according to one estimate could employ 100,000 people in California alone.

The union's cannabis unit says it uses traditional organizing tactics to bring fair wages and benefits to an industry that "has been operating in the shadows."
Voters in Colorado and Washington decided last year to end all criminal and civil penalties for cannabis use by adults. Eighteen states since 1996 have permitted the medically authorized use of marijuana. 

Surprisingly, some dispensary operators are backing the unionization efforts because they see competitors breaking labor laws and ducking taxes, according to Reuters. But other dispensary owners, like those in many other industries, remain leery of unions.

Follow Jonathan Berr on Twitter @jdberr.
More on moneyNOW
Now it's time for Florida, one of the most populated states in the country, to legalize recreational use. It's way past time for our Government to reverse it's old world way of thinking. Back in the 1800's this county's infrastructure was built by Chinese, Mexicans and Africans, all high on opium or cannabis. I don't think legalizing it now would bring the world to an end. There will always be the fear mongers. I don't smoke anything, but do believe it ones right to choose yay or nay.
Are you sure you want to delete this comment?
About moneyNOW
MoneyNOW brings users smart, original and entertaining takes on the latest business and investing topics that are buzzing on the Web.
MARKET UPDATE
[BRIEFING.COM] The major averages hover near their session lows with the S&P 500 down 0.5%.

The Federal Reserve has released the minutes from its May 1 meeting. The minutes indicated that many participants believed more economic progress needs to be seen before quantitative easing can be slowed down. However, some members did express their willingness to slow asset purchases as early as June, provided economic conditions warrant the change.

With regards to inflation, the ... More
More Market News