This Whole Foods Obama chicken ad misfires badly
In Manhattan's notoriously liberal Upper West Side, residents' complaints force the organic grocery chain to pull an ad they considered racist.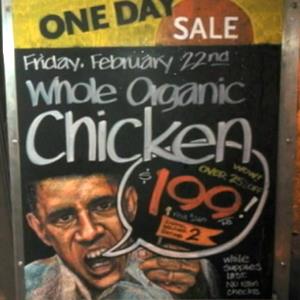 New York's Upper West Side may be where hungry tourists stop in at H&H Bagels for breakfast, Barney Greengrass for lox and whitefish and Zabar's to nosh on some cheese or salad. But it's also where Martin Luther King Jr. and Columbia University students voiced opposition to the Vietnam War and where Riverside Church handed out tents to Occupy Wall Street protesters.
It's the home of Lincoln Center, the Museum of Natural History, Barnard and Juilliard.
It's just not the kind of place where Whole Foods (WFM) can put up an illustration of President Barack Obama touting the grocer's chicken special and expect folks to shrug it off as anything but racist. Yet the Whole Foods on 97th Street and Columbus Avenue put up just such a caricature earlier this week before receiving a flood of complaints.
A Whole Foods spokesman told The Huffington Post that the location ditched its caricature of the president selling organic chicken "once it was brought to our attention by a shopper that it may be perceived as offensive." Judging by the neighborhood's reaction, that's an understatement at best.
"There are certain things that have been used to put down black people," neighbor Woody Henderson told NBC 4 New York.
The same Whole Foods spokesman said the store's artists created various pop-culture images to promote sales and events, and that the image wasn't meant to be offensive. Were the depiction of President Obama selling Whole Foods' 365-brand cereal, it might not have offended anyone. However, the specific combination of the image and the product being sold didn't sit well with folks on the Upper West Side's streets.
"Even if he's not the president, you're going to have an African-American promoting the sale of chicken?" Jason Nunez of the Bronx asked NBC. "They can do better than that." 
This hasn't been the first culture clash for Whole Foods and its clientele. Back in January, CEO John Mackey went on National Public Radio and compared the new health care law to fascism. He's also unsettled his notoriously left-leaning consumer base by identifying himself as a libertarian in 2005 and questioning employees' right to health care in 2009.
While slip-ups like the Obama ad may fly in places like Kentucky, where a man who put a mannequin of the president eating a watermelon on his front lawn didn't see how it could be construed as racist, the Upper West Side isn't a great place to play the "Who, us racist?" game.
"I don't think you can find a more pro-Democratic neighborhood," Whole Foods neighbor Jeffrey Schaper told NBC. "They're sort of shooting themselves in the foot."

So using this logic, it would be racist for KFC or Zaxby's or Chick Fil-A to have a black person in any of their commercials.  On the one hand, they would be racists for excluding black people from a TV commercial audition.  On the other hand, they would be racists if they hired a black person to promote their food.  Brilliant.

Are you sure you want to delete this comment?
DATA PROVIDERS
Copyright © 2014 Microsoft. All rights reserved.
Fundamental company data and historical chart data provided by Morningstar Inc. Real-time index quotes and delayed quotes supplied by Morningstar Inc. Quotes delayed by up to 15 minutes, except where indicated otherwise. Fund summary, fund performance and dividend data provided by Morningstar Inc. Analyst recommendations provided by Zacks Investment Research. StockScouter data provided by Verus Analytics. IPO data provided by Hoover's Inc. Index membership data provided by Morningstar Inc.
MARKET UPDATE
[BRIEFING.COM] The stock market finished the Wednesday session on a modestly lower note, but it is worth mentioning today's retreat took place after six consecutive gains. The Dow Jones Industrial Average (-0.1%) and S&P 500 (-0.2%) settled not far below their flat lines, while the Nasdaq Composite (-0.8%) lagged throughout the session.

Equity indices started the day in the red, with the Nasdaq showing early weakness as large cap tech names and biotechnology weighed. The technology ... More
More Market News
TOP STOCKS
3 funds for hardcore contrarians
These ETFs are benchmarked to extremely out-of-favor foreign markets that most investors would quickly pass over. Whoever said being a contrarian was easy?