NYC soda ban falls flat
A judge says inconsistent enforcement for coffee and other beverages led to the law's demise.
Drink up, soda-guzzling New Yorkers. The city's sugary drink ban is dead.
New York Supreme Court Judge Milton Tingling ruled as such on Monday, The Wall Street Journal reported. Tingling said that the law was doomed by inconsistencies that capped servings of Coca-Cola (KO), Pepsi (PEP) and other sweetened beverages at 16 ounces but let lattes flow unabated. The ruling came just one day before the law was slated to go into effect.
The regulations are "fraught with arbitrary and capricious consequences," the judge wrote. "The simple reading of the rule leads to the earlier acknowledged uneven enforcement even within a particular city block, much less the city as a whole. . . the loopholes in this rule effectively defeat the state purpose of the rule."
As The New York Times reported last week, Bloomberg's ban on oversized sweet drinks like jumbo colas would have extended to large and extra-large coffee and medium-to-large iced beverages. This is where the law got a bit murky, as customers could add their own sugar to huge cups of coffee, while sweet stuff like hot chocolate gets capped at medium sizes. Lattes containing 50% or more milk were immune to the policy changes entirely.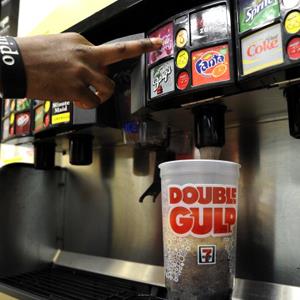 Starbucks (SBUX), however, wasn't playing along and called out Bloomberg's ban as vague at best. The company told Business Insider that it didn't plan to remove large versions of sweetened drinks like its iced-tea lemonade until it got some clarification on what drinks fall within the ban. The law would have limited non-coffee sugary drinks sold at restaurants, movie theaters, street carts, and elsewhere to 16 ounces.


The Daily News reported that Bloomberg had planned to unleash city health inspectors with 17-ounce cups to keep everybody honest. Restaurants that violated the ban would have lost points on their sanitation score, which were the "capricious consequences" the judge was referring to when he struck down the ruling. The first cracks in Bloomberg's facade showed Sunday, when the mayor accused Starbucks of playing coy when asked about the subject on CBS' "Face The Nation" on Sunday.
"Starbucks knows how to market things, knows how to package things," Bloomberg said. "They can change instantly when it's in their interest to do so."
Starbucks competitor Dunkin' Donuts (DNKN), which is notorious for adding a front-end loader's worth of sugar to its coffee upon request, planned to play the good little East Coast chain and make its harried rush-hour customers line up for sugar packets after they received their coffee. Seattle's Starbucks had no time for Northeast neuroses, but neither did the legal system, apparently.
DATA PROVIDERS
Copyright © 2014 Microsoft. All rights reserved.
Fundamental company data and historical chart data provided by Morningstar Inc. Real-time index quotes and delayed quotes supplied by Morningstar Inc. Quotes delayed by up to 15 minutes, except where indicated otherwise. Fund summary, fund performance and dividend data provided by Morningstar Inc. Analyst recommendations provided by Zacks Investment Research. StockScouter data provided by Verus Analytics. IPO data provided by Hoover's Inc. Index membership data provided by Morningstar Inc.
MARKET UPDATE
[BRIEFING.COM] The S&P 500 (-0.5%) remains pressured as every uptick has been met with selling activity. This morning, the health care sector (-0.6%) was an early source of weakness in reaction to concerns about the impact of new rules on tax inversion deals.

Over the past 30 minutes, Bloomberg reported that Pfizer (PFE 30.01, -0.17) has approached Actavis (ACT 242.88, +7.02) about a potential acquisition. Actavis, which traded with a slim loss ahead of the reports, has ... More
More Market News