Beer 'growlers' gain momentum
Drinkers and many breweries are embracing the reusable containers, even if some state lawmakers -- and brewmasters -- aren't.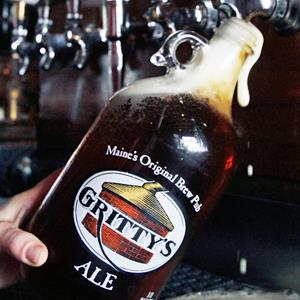 Here in Portland, Ore., two 64-ounce jugs sit atop the refrigerator and a 32-ounce resealable bottle sits on the windowsill, both just waiting to be filled with beer from one of the myriad local breweries.
Beer lovers know them as growlers, and they're handy travel containers in states that allow them, the envy of beer drinkers in states that don't and still a topic of heated debate among beer enthusiasts divided over their worth and effectiveness.
Currently, Maryland brewers like Flying Dog in Frederick and Heavy Seas in Baltimore are near the successful end of their battle to allow growler fills in Baltimore and other areas, according to The Baltmore Sun. Florida already allows 32-ounce resealable beer containers affectionately known as "grenades." But The Tampa Bay Business Journal reports that the state is now facing pressure from small local brewers like Tampa's Cigar City Brewing to allow breweries and beer buyers to fill 64-ounce growlers.
The national beer climate has clearly become so enamored with growlers that Shanken News Daily reports national beer and wine retail chain Total Wine has begun installing growler filling stations in 20 of its shops. But there's no consensus within the beer community on the merits of these jugs.
Smaller brewers like the Craft Brew Alliance's (BREW) Widmer Brothers and Redhook see them as a great way to get their beer out to the masses without the cost of bottling or canning. Legislators see them as a 64-ounce binge session waiting to happen. Beer distributors see them as a threat to business. And respected brewmasters see them as the worst possible option for enjoying beer.
Each has a point.
A basic 64-ounce growler with a screwtop and a brewery's label on the front can be had for as little as $2 but usually tops out around $5 in growler-friendly states. More expensive versions made of earthenware or featuring flip-top porcelain caps with rubber gaskets can run upwards of $30, while aluminum versions can cost as much as $50. Filling those growlers will set you back about $10 in most places, but right now it's a cost-ineffective $20 in Florida.
The upside for consumers is that there are no bottles or cans to dispose of, which presents a problem to the distributors whose livelihood depends on those packages. The downside is that, even in states that allow growlers, filling them can get complicated.
In Massachusetts, for example, breweries can only fill growlers with their brewery's label on it. As a result, some brewers, like Samuel Adams maker Boston Beer (SAM), refrain from growler fills altogether. But it tends to work out well for loyal consumers, who can buy pressurized, prefilled growlers and then refill and recharge them at their brewery of choice. In California, a growler has to be relabeled each time it's refilled, and it has to include the name and location of the brewery, the type of beer, the alcohol by volume if it exceeds 5.7% and a government warning.
The biggest argument against growlers, however, has nothing to do with their size or cost and everything to do with the beer inside them. Garret Oliver, the brewmaster at Brooklyn Brewery, spoke with Bon Appetit about his disdain for growlers and how they can be a brewer's nightmare -- by letting in oxygen, killing carbonation and being generally unsanitary.
As every growler owner learns quickly, big 64-ounce jugs with relatively small mouths can be tough to clean and don't keep beer fresh for very long once they've been opened.
Portland, Ore.-based craft beer site The New School notes that while Oliver's critique rings true, freshness isn't the first thing on a drinker's mind when getting a growler filled. Growlers exist to save drinkers money and to give them a relatively inexpensive introduction to new brewers. Six packs and 22-ounce bottles ("bombers," because every beer vessel needs a nickname) get costly for both brewers and buyers alike. Growlers lower that price of entry a bit, even if the freshness doesn't last.
Though growlers are better for big gatherings than beer storage, even begrudging brewers think states should give the jugs a chance. It may not be every brewmaster's container of choice, but it is a gateway to buyers who might not pick up a bottle otherwise.

What I get out of this article is if the state law makers have a problem with it then it must be good.  I could buy two 22oz bottles or fill up one growler.  The growler will be straight out of the keg which tends to taste better and is cheaper.  As for the brew masters problem, we are not filling up growlers to store them for weeks in the fridge.  They are great to share with a couple friends one evening. 

I don't know what the guy from Brooklyn is talking about.  If the server knows what he or she is doing, the beer in the growler is just as fresh as that in a pint from the same tap. They also won't fill a dirty container and so will have a wash station on site.  Furthermore, many people use growlers made by Hydro Flask which are virtually indestructible and keep the beer cold and fresh for days.
In Oregon, "Growler Stations" have opened up, some with 30 taps, where customers can fill up with  different brews not available in stores.   It's a great way to support small breweries and have some really good fresh beer at the same time.
Are you sure you want to delete this comment?
DATA PROVIDERS
Copyright © 2014 Microsoft. All rights reserved.
Fundamental company data and historical chart data provided by Morningstar Inc. Real-time index quotes and delayed quotes supplied by Morningstar Inc. Quotes delayed by up to 15 minutes, except where indicated otherwise. Fund summary, fund performance and dividend data provided by Morningstar Inc. Analyst recommendations provided by Zacks Investment Research. StockScouter data provided by Verus Analytics. IPO data provided by Hoover's Inc. Index membership data provided by Morningstar Inc.
MARKET UPDATE
[BRIEFING.COM] The stock market finished the Thursday session on a higher note with the S&P 500 climbing 0.5%. The benchmark index registered an early high within the first 90 minutes and inched to a new session best during the final hour of the action.

Equities rallied out of the gate with the financial sector (+1.1%) providing noteworthy support for the second day in a row. The growth-oriented sector extended its September gain to 1.9% versus a more modest uptick of 0.4% for the ... More
More Market News