Sprinkle spree gets former McDonald's worker $5K
A UK employee making $300 a week was accused of putting too much topping on a McFlurry -- and won a settlement over the issue.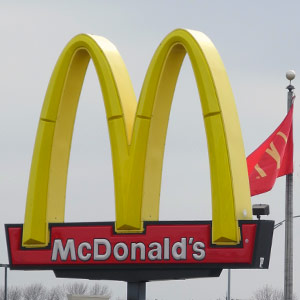 There's a reason your McDonald's (MCD) ice cream toppings might look a little meager lately: Ronald McDonald is counting every sprinkle.
Welsh McDonald's employee Sarah Finch, 19, discovered this the hard way earlier this fall, when she was fired for putting a generous helping of chocolate sprinkles on a McFlurry dessert that a coworker had already paid $1.61 for. Finch later took McDonald's to court, and on Wednesday the company settled by giving her $5,000. She made less than $300 a week at McDonald's.
McDonald's reported a 3.5% drop in global revenue last quarter and has been cranky about it ever since. Already, the company is shifting its focus from premium items like angus burgers and smoothies to its low-budget Dollar Menu, opened more outlets in the U.S. on Thanksgiving to boost revenue and nudged American franchise owners to stay open on Christmas to bring in an extra $5,500 per store -- or just $500 more than the company just paid for firing an employee who'd been with the company for 18 months just for making a McFlurry prettier.
Ron Mounsey, managing director of the McDonald's where Finch worked, put McDonald's newfound humorlessness into words back in September in a letter to Finch's mother obtained by The Sun:
"You may feel it is trivial, but with 740 employees in my business, if my management team were just to overlook such incidents then quickly it would become a free for all."
That makes Ronald one sad clown. Remember, we're talking about sprinkles here: An ice cream topping of dubious chocolate content that invariably ends up spilled on the counter or floor before a customer ever puts spoon to dessert. As Finch told The Guardian, it wasn't as if she'd filled a sandwich bag full of them and hustled her coworker out the door. She was a bit heavy handed in her approach to the fast-food chain's unwritten sprinkle rules.
"There is no standard for such measures -- they are always imprecise and will vary among customers," Finch says. "My colleague had asked me: 'Make it a nice one'. So the measure I gave erred on the side of more than, rather than less than, the mean."

That's apparently an offense worthy of termination under the Golden Arches, where it costs precious little to cut loose a low-cost employee. About 60% of low-wage workers in the U.S. are employed in the fast-food industry, according to the National Employment Law Project.

McDonald's pays crew members an average of $7.63 an hour, or more than a dollar less than the average $8.66 cost of two Big Macs, according to the employer review site Glassdoor.com. That's less than the $7.66 an hour made by Burger King (BKW) and Wendy's (WEN) employees or the $7.77 made by staff at Taco Bell. If a worker puts in 40 hours a week all year long, that adds up to $16,000 before taxes. By those numbers, Blair's settlement just gave her the equivalent of four months' pay at McDonalds.
That's assuming they'd let an employee work that long. Executives at the Papa John's (PZZA), Red Lobster and Olive Garden owners Darden Restaurants (DRI) and Jimmy John's chains joined franchise owners at Denny's (DENN) and DineEquity's (DINE) Applebee's chain in threatening to cut employee hours to avoid paying their health care costs under the Affordable Care Act.
With such a low bar for employee earnings, it's little wonder McDonald's seems to value its sprinkles more.
More from Money Now
DATA PROVIDERS
Copyright © 2014 Microsoft. All rights reserved.
Fundamental company data and historical chart data provided by Morningstar Inc. Real-time index quotes and delayed quotes supplied by Morningstar Inc. Quotes delayed by up to 15 minutes, except where indicated otherwise. Fund summary, fund performance and dividend data provided by Morningstar Inc. Analyst recommendations provided by Zacks Investment Research. StockScouter data provided by Verus Analytics. IPO data provided by Hoover's Inc. Index membership data provided by Morningstar Inc.
MARKET UPDATE
[BRIEFING.COM] S&P futures vs fair value: -6.60. Nasdaq futures vs fair value: -14.50. The S&P 500 futures trade seven points below fair value.

Markets across most of Asia ended on a lower note, while Japan's Nikkei was closed for Autumn Equinox.

Economic data was limited:

China's HSBC Manufacturing PMI ticked up to 50.5 from 50.2 (expected 50.0)
Singapore's CPI eased to 0.9% year-over-year (expected 1.2%; previous ... More
More Market News