Changed your mind about that tattoo?
The tattoo removal industry is gaining ground as more people get inked -- and then regret the move as they enter the job market.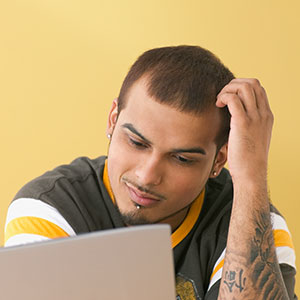 Tattoos don't have the staying power that they used to. Just ask the Romney face tattoo guy.
As you might remember, 30-year-old Eric Hartsburg became a walking campaign ad after he had Mitt Romney's campaign logo tattooed on the right side of his face for a $5,000 fee.
The pro wrestler originally said he'd keep the tattoo no matter what.  But in a post-election interview with Politico, Hartsburg announced a change of mind -- and said he accepted an offer from a tattoo removal chain to have the logo wiped off his face for free. The year-long procedure normally costs $1,000.
Tattooing is a multi-billion dollar industry in the U.S. with estimates of up to 21,000 tattoo parlors nationwide. According to a recent Harris Poll, one out of every five U.S. adults has at least one tattoo.

And while Hartsburg's tattoo story is unique, his desire to get a tattoo removed is not unusual. Some 14% of people with tattoos told Harris they now regret their decision. And that regret has spawned a huge tattoo removal industry.

The Motley Fool says demand for laser tattoo removal is up 32% from last year, and it points to younger people looking for work as the prime market. There's a 13.5% unemployment rate among 20-to-24-year-olds, and that rises to 22.2% for 18-to-19-year-olds, the web site notes. "Seeing as the 18-to-24-year-old demographic has one of the higher proportions of tattoos at 22%, it stands to reason that tattoo removal may become more and more attractive if you desperately need a job."
In fact, the race appears to be on to come up with a better mousetrap when it comes to tattoo removal. Cynosure (CYNO), a Massachusetts laser-treatment company, announced Wednesday that it received federal clearance for its new PicoSure laser workstation for the removal of tattoos and benign pigmented lesions.

The company says its system more efficiently erases tattoo pigments, and it plans to begin marketing the workstation to dermatologists and plastic surgeons in early 2013. "With data indicating that an estimated 20% of the 45 million Americans with at least one tattoo want to have it removed, the FDA clearance of PicoSure creates a first-mover advantage for Cynosure to treat a large and vastly underserved market," CEO Michael Davin said in a press statement.

The American Society for Dermatologic Surgery, meanwhile, reports its doctors performed nearly 100,000 tattoo removal procedures in 2011, up from 86,000 in 2010. Costs of tattoo removal vary, depending on the artwork's location on the body, its size, the color pigments used and other factors.

But About.com estimates it can take from two and up to 15 sessions to remove a small, 4-inch-square tattoo at a average cost of $30 to $60 per square inch. That can quickly add up to a lot of green spent on that unwanted tattoo -- and we don't mean ink.
More from Money Now
DATA PROVIDERS
Copyright © 2014 Microsoft. All rights reserved.
Fundamental company data and historical chart data provided by Morningstar Inc. Real-time index quotes and delayed quotes supplied by Morningstar Inc. Quotes delayed by up to 15 minutes, except where indicated otherwise. Fund summary, fund performance and dividend data provided by Morningstar Inc. Analyst recommendations provided by Zacks Investment Research. StockScouter data provided by Verus Analytics. IPO data provided by Hoover's Inc. Index membership data provided by Morningstar Inc.
MARKET UPDATE
[BRIEFING.COM] The stock market finished the Tuesday session on the defensive after spending the entire day in a steady retreat. The S&P 500 (-0.6%) posted its third consecutive decline, while the small-cap Russell 2000 (-0.9%) slipped behind the broader market during afternoon action.

Equity indices were pressured from the start following some overnight developments that weighed on sentiment. The market tried to overcome the early weakness, but could not stage a sustained rebound, ... More
More Market News