NRA debuts shooter game weeks after Newtown
The gun group says it's meant to educate, but criticism of the gaming industry after the Sandy Hook shooting puts the game in critics' crosshairs.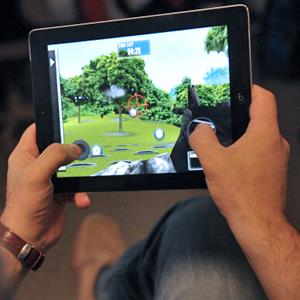 It's been a month since Adam Lanza killed his mother, took her Bushmaster XM-15 rifle to Sandy Hook Elementary School in Newtown, Conn., forced his way in and killed 26 people -- including 20 young students -- before talking his own life.
It's been about a week less since Wayne LaPierre, executive vice president of the National Rifle Association, responded to that incident with a press conference calling for armed guards in schools, tighter monitoring of the mentally ill -- and accountability from the makers of violent video games.

His following words from that press conference are the main reason why the NRA's release of the first-person shooter "NRA: Practice Range" in Apple's (AAPL) App Store for iPhone and iPad are a newsworthy event: 
There exists in this country a callous, corrupt and corrupting shadow industry that sells, and sows, violence against its own people. Through vicious, violent video games with names like Bulletstorm, Grand Theft Auto, Mortal Kombat and Splatterhouse.
"NRA: Practice Range" doesn't feature mystical, circa-1992 fighters ripping an opponent's heart out or a 1988 horror villain lookalike taking a machete to zombies and ghouls to save his girlfriend, but it does allow users to shoot at body targets with a red spot used to mark center mass.

The NRA argues that those targets aren't human beings, but even "Bulletstorm" and "Grand Theft Auto" don't mark the human heart for a practice kill. They're also marketed with "M" ratings making them unsuitable for gamers younger than 17. The morning "NRA: Practice Range" was released, the App Store labeled it appropriate for ages 4 and up.
As Business Insider noted the day LaPierre made his video game statement, this isn't the first time the NRA has dabbled in the video game industry. Their games usually consist of shooting at skeet and targets and have been criticized for their blandness by gaming sites like IGN and Gamespot. At their bloodiest, offerings like PC game "NRA Varmint Hunter" allowed players to shoot at prairie dogs and groundhogs.
"NRA: Practice Range" is little different, though it does allow gamers to upgrade to AK-47 assault rifles and MK-11 sniper rifles for 99 cents more. Game designer and scholar Ian Bogost, who wrote about video games' role in the recent gun debate for The Atlantic, told gaming site Kotaku that "Practice Range" actually fits into the NRA mission well and criticism of it could be spun into a further indictment of violent shooters.
"It's another specimen in the NRA's ongoing effort to present gun ownership and use as a part of a practice of sportsmanship and as participation in an existing community of 'responsible gun owners,'" Bogost told Kotaku. "Contrary to immediate reaction among some of the game playing and development community, the NRA's presentation of the game as an educational tool fit for kids will read as consistent with their overall project and message among NRA supporters."
The NRA's strategy may blunt critics like Forbes video game writer Paul Tassi, who played through the game and lamented its wonky controls and obvious gun safety messages including "Never use alcohol or drugs before or while shooting" and "Always keep the gun pointed in a safe direction." But Tassi's conclusion bears no less weight: A poorly assembled game app released less than a month after the NRA had some strong words for the video game industry only makes it appear out of touch, especially when the Washington Post's entire global desk points out the dearth of evidence linking video games and real-life shootings.
Nintendo didn't draw this kind of criticism in the 1980s for its Zapper light gun or "Duck Hunt" and "Hogan's Alley" target shooting games, but it didn't release them weeks after declaring its entire industry responsible for a national tragedy, either.
More on Money Now

The NRA will get negative press no matter what they do.   The Secular Progressives have the ear of the news media so the NRA is fair game. 
If you want to stop the people from mass murder:
don't ever show their names or faces (no notoriety) on the news or in print,
arm the teachers or have at least one armed security guard in all schools, 
give mentally challenged people a job to keep them busy, 
control the entrances to schools
and eliminate "Gun Free Zones" elsewhere, which only support a deranged person's intentions.    

NRA helps to protect our rights to have and use firearms. The only way to be safe is through knowledge. Lets educate our children on the proper way to handle a firearm. Teach them to clean them and treat them with respect. A firearm is not a toy and should never be used as one. With knowledge and education the firearm can become a tool for defense rather than a fear of society. We as a country can not rely on our government to protect us all of the time. We must take responsibility for our actions. Games and play toys are bought for children by parents. Parents start raising your kids. Regulate their exposure to violence on TV and explain to them the difference of factual life and pretend. You are their hero and they look up to you. Parents are to blame for the increase of violence in our country. If we ever start the draft again such as in vietnam my children will at least know what to do. They will have a fighting chance to return home. Thank you NRA for all you do for our country. I salute you for standing up for what is right even during troubling times for our country.

I'm sure many in the NRA have good intentions...?
Some are the ying to the yang......Of pacifist gun-haters....Both are extremist, and accomplish little.
We are not members of either Group..
We have guns, hunt and occassionally target. Taught our children early on, about guns.
They have taught their's...All of the kids in the family,have also been through Prof-gun safety classes.
Or hunter's safety.
Both sides of the Family and extended family are gun owners, some have CCWs.
Our guns are locked up usually or in safe places,when not being carried...
And I haven't shot for about 18 months...No luck hunting this year.
The only problem ever, is when having someone untrained (kid's friends) shooting at targets at our place...Some holes in the back of my barn and they killed a Peach tree, one time.

My son ask me dad, why did they take prayer out of school,most kids didn't mind it,it gave them hope,its not guns that kill people,it is evil that kills people. Hope is a vision that give you 2 paths, one is destruction and the other isa feeling wellmaybe, it will be better tomorrow. Dad,i shoot guns with you all the time AK 47,AR 15 and Mac10. I have never thought about shooting anybody. doesn't Gods word teach us the value of life. i told him, yes,but there is some evil in this world you will never stop. These are the words of a 8 year old boy who grew up shooting full auto,semiautos,singlesho​ts,cross bows amd,amd even muzzleloaders.He,muzzleloaders.He grew up to be one on the youngest range officers that NMLRA has ever had. I was told that he would grow up to be a serial killer around all these guns. He 26 years old now,he has a daughter ,we will teach her the same way he learned God,guns, and the Second amendment. I got this off of wikipedia and i think it pretty well sums it up :Hope is the state which promotes the belief in a positive outcome related to events and circumstances in one's life. is the opposite of hope. Hope is the "feeling that what is wanted can be had or that events will turn out for the best" or the act of "looking forward to something with desire and reasonable confidence" or "feel[ing] that something desired may happen".how can you blame guns. Our government has brought this upon us and if we don't change it,We are heading to be no better than a third world nation
Rome fell and so are we
h

A well trained person at a School with a sidearm and steel nerves, might be okay; ?
Serving a dual purpose as a Custodian or Counselor..
Arming a bunch of teachers, isn't really a great idea; Sooner or later, one could make a forgetful mistake...Or even worst turn into the enemy...We have problems with some teachers in today's world, And you want them all armed ??
Armed guards again, about the same....Even some/many cops, shouldn't be carrying guns today.
They are not trained to shoot and maim an un-armed person, they kill for NO reason...IMO
And correct, the Media sensationalizes(sp) the situation to extreme and should stop, but victims and victim's families are part of that problem also..
And they SHOULD NEVER mention the purpetrator/shooter'​s  NAME..period.

RE:"don't ever show their names or faces (no notoriety) on the news or in print,"
 -How wonderfully Pharaonic Egyptian that would be! Let's all be ostriches, never speak their names and pretend it never happened, shall we?
"arm the teachers or have at least one armed security guard in all schools,"
-Perfect! Big government on steroids. Let's see, how many schools, libraries, movie theaters? The list goes on ad nauseam (and I DO mean ad nauseam). But how lethal would a one armed security guard be eaxctly?
"give mentally challenged people a job to keep them busy,"
 -OK. Now we're on to somthing. All those NRA people should be busy. But there's only so many slots in Congress, although it does keep Boehner, McConnell and Cantor off the streets.
"control the entrances to schools"
 -Yoo hoo! Mr Dell of Boob!! On finding a restricted access, The gunman SHOT his way through a window. We could wrap our schools in reactive armor maybe?
"and eliminate "Gun Free Zones" elsewhere, which only support a deranged person's intentions."
-Oooh. Wild Wild West. Wouldn't you just DIE for that...
Are you sure you want to delete this comment?
DATA PROVIDERS
Copyright © 2014 Microsoft. All rights reserved.
Fundamental company data and historical chart data provided by Morningstar Inc. Real-time index quotes and delayed quotes supplied by Morningstar Inc. Quotes delayed by up to 15 minutes, except where indicated otherwise. Fund summary, fund performance and dividend data provided by Morningstar Inc. Analyst recommendations provided by Zacks Investment Research. StockScouter data provided by Verus Analytics. IPO data provided by Hoover's Inc. Index membership data provided by Morningstar Inc.
MARKET UPDATE
[BRIEFING.COM] S&P futures vs fair value: -6.60. Nasdaq futures vs fair value: -14.50. The S&P 500 futures trade seven points below fair value.

Markets across most of Asia ended on a lower note, while Japan's Nikkei was closed for Autumn Equinox.

Economic data was limited:

China's HSBC Manufacturing PMI ticked up to 50.5 from 50.2 (expected 50.0)
Singapore's CPI eased to 0.9% year-over-year (expected 1.2%; previous ... More
More Market News