Obamacare loophole lets states shift costs
Washington state is considering taking its part-time employees off its insurance plan and sticking Uncle Sam with the tab.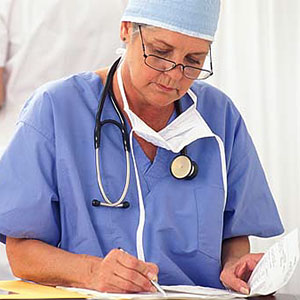 The new national health care law has always fueled debate over funding, but now it's the states that may potentially pass costs on to the federal government.
Washington state, which is coping with a $1.2 billion budget shortfall, is considering pushing some of its employees out of the state health care plan and into exchanges created by the Affordable Care Act. The book keepers in Olympia say their plan would save the state $120 million over the next two years. However, it would just dump costs onto the federal government, since some low-income, part-time state employees and education workers may qualify for federal aid.
While the health care law requires health insurance for employees working 30 hours a week or more, Washington already insures employees who work as little as 20 hours a week. Under a proposal still in the developmental stages, the state would change its policies and make deals with staffers working between 20 and 30 hours a week to pay them more, but drop their health care coverage. Those workers would then be eligible for health care through the federal plan, with minimal consequences for the state.
The tradeoff for Washington is roughly $2 an hour in raises for school cafeteria workers and teacher's aides. That's about $200 a month for workers putting in 25 hours a week, but part-timers in families with middle-class incomes or better might not qualify for federal benefits and could face thousands of dollars in new expenses.
The state's budget battles have already resulted in Washington selling off its state-run liquor stores, proposing an increasingly divisive beer tax and exploring tolls to fund a new Interstate 5 bridge into Oregon. Yet it's not the only state framing its budget issues in the context of so-called Obamacare.
Virginia, for example, is now requiring all part-time employees to work 29 hours or less weekly to avoid incurring health care costs. Florida, which is facing a potential $300 million penalty for not covering workers who put in 30 to 39 hours a week, is taking the opposite approach and trying to extend coverage to those employees.

Hey it looks like the state governments have learned something from the general public, how to screw the federal government; let the other guy pay.  There is no cheese quite as good as that free federal government cheese.  Let's all get some.  Obama and the Democrats are leading you all down the road to perdition.  I am tired of funding this fiasco.  Don't tax me, don't tax thee, tax he that is behind the tree.

That my friend is the problem with government accounting.  Anytime you hear that there will be "savings" that is code for the government is going to screw someone out of something.  In the context of this story, the state of Washington is going to "save" $120 million by screwing the federal government out of it.  I guess that they are going to screw us all by raising the social security and medicare eligibility up to 90 years old, thereby "saving" millions.  Savings means screw.  Got it?  

"Road to Perdition"  - that's pretty good - had to look that one up to be certain. 
My main concern is that we are dropping  this grand experiment called Obamacare on a fragile economy without any idea of the impact that will arise from such a sea change in the medical and health care industry with the projected costs being substantially more than first thought and being bourne primarily by business (translate jobs) and middle class & upper income individuals. 
This is a foolish "gamble" by the folks in D.C. who admittedly had no idea what this law had in it or how it would be applied.  Just another romanticist concept from Obama without any experience or knowledge of reality.  
Perception can get you elected (twice you dumb Americans), but Reality must eventually be dealt with.  Public relations/image just doesn't get the job done when it comes down to it.

Remember it could be worse, Obummer had both houses led by the
Democratic-Socialist​
Party for two years and could not get a budget passed. He should be impeached for usurping the Constitutional requirement of passing a budget, or for not submitting one. He just uses executive powers to do as he wants. If he can't use the power he pouts or gets angry. I laughed at the president when he lost the gun control battle and fell short of a temper tantrum. And for all of you Bush bashers, our country was safer during his 8 years than it is now. He stopped playing golf after 9/11 and led us through the  terrorist attack with yeoman-like ability. He never apologized to the world for being the powerhouse we were. I am not sure we can say that now. President ObaMao needs to get his gluteus maximus, off of the golf course, stop going on vacation and start packing his bags( golf bag included) and go home to that bastion of Liberal thought, Hawaii or Chicago. ... Too bad he has to wait three years, because our side does not have the cajoles to hold his feet to the impeachment fire for fear of being called racist or not get re-elected. Go Tea Party, get those Rinos out of Washington.

thats what was said about social security than unemployment,try taking either of those away,national healthcare will one day be embraced by all americans also.and lets be clear on so called obamacare he just happen to be pres. when it happened,it is smiply national healthcare and it is our future for all american people united.
Are you sure you want to delete this comment?
DATA PROVIDERS
Copyright © 2014 Microsoft. All rights reserved.
Fundamental company data and historical chart data provided by Morningstar Inc. Real-time index quotes and delayed quotes supplied by Morningstar Inc. Quotes delayed by up to 15 minutes, except where indicated otherwise. Fund summary, fund performance and dividend data provided by Morningstar Inc. Analyst recommendations provided by Zacks Investment Research. StockScouter data provided by Verus Analytics. IPO data provided by Hoover's Inc. Index membership data provided by Morningstar Inc.
MARKET UPDATE
[BRIEFING.COM] The stock market finished an upbeat week on a mixed note. The S&P 500 shed less than a point, ending the week higher by 1.3%, while the Dow Jones Industrial Average (+0.1%) cemented a 1.7% advance for the week. High-beta names underperformed, which weighed on the Nasdaq Composite (-0.3%) and the Russell 2000 (-1.3%).

Equity indices displayed strength in the early going with the S&P 500 tagging the 2,019 level during the opening 30 minutes of the action. However, ... More
More Market News